So you're in New Zealand and you think to yourself, "this would be a mighty fine place to explore by bike," and you would be absolutely correct. Turns out you're far from the only person to have that thought, which means you'll find NZ is home to an excellent array of local cycle tour operators who are itching to show you their glorious region, spread across two main islands, by bike.

There are world-class mountain bike trails that draw expert level riders from around the world, but you need not be a Lycra-clad powerhouse to enjoy traversing New Zealand by bike. The island country is a huge diversity of trails and tours, and has room for all abilities within its shores. With the ever-increasing popularity of e-bikes, there's also the opportunity to explore further for longer and with more confidence for those new to bicycle touring. The options are endless.

We've pulled together a selection of the finest tours on offer, ranging from pumping MTB to leisurely family cycling, to luxurious and indulgent food or wine forays on two wheels. The best cycling tours in New Zealand range from just a few days to several weeks, so you'll be sure to find something to match your schedule, tickle your fancy, and enhance your enjoyment of this wonderful country.
North Island NZ's Best Cycling Tours
1. Gastronomic Hawke's Bay – 4 Days

Take in glorious Hawke's Bay on the east coast of the North Island with this four-day luxury bicycle tour that combines easy, scenic cycling with visits to world-famous wineries, stays in sumptuous lodgings, and exquisite gourmet cuisine offerings.
The hallmark of this tour is the food and drink; revel in a five-course dégustation dinner, a three-course table d'hôte dinner, wine sampling, and a 'Behind the Scenes Tour' at Church Road Winery.
Cycling is moderate and easy. You get all the information you need to ride this self-guided tour, with full back-up support if needed, and daily private car transfer. Add e-bike hire to the package, too, if you want to up the levels of supreme comfort even further. Rest, relax, and unwind each day in boutique, luxury lodging accommodations.
The tour starts and ends in Ahuriri, Napier. Hawke's Bay Airport (NPE), a domestic airport also known as Napier Airport, is just a 10-minute drive away and has regular departures to connecting international airports.

Take the plunge and treat yourself to this four-day luxury escape on a wonderfully relaxing cycle tour of New Zealand.
2. Easy Explorer Hawke's Bay – 5 Days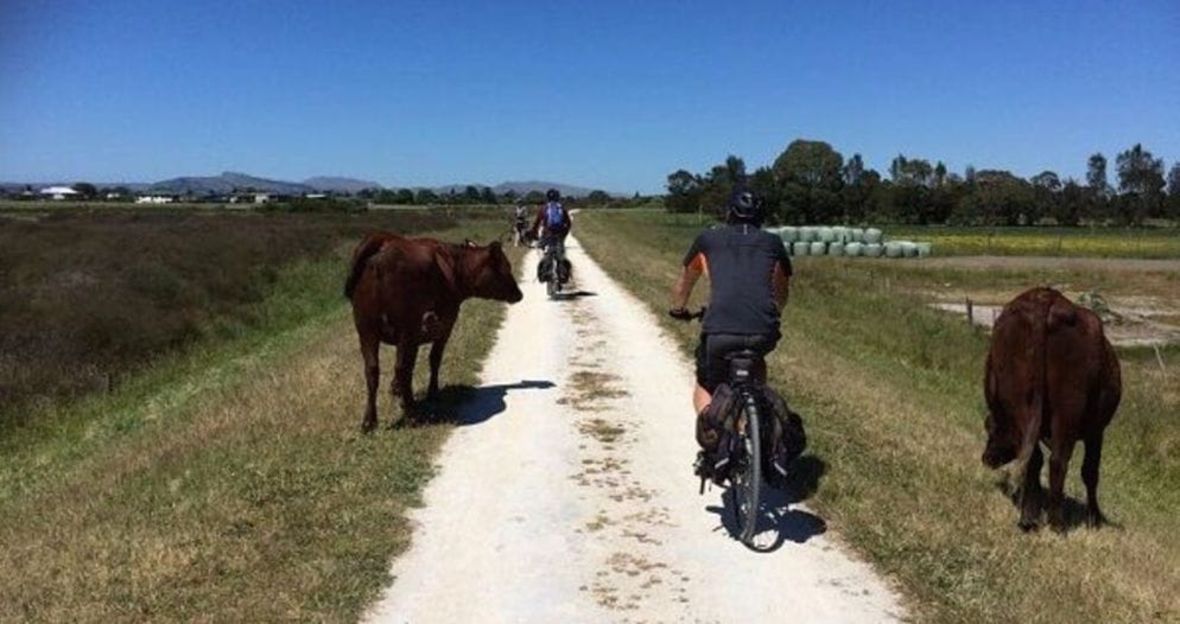 Still in charming Hawke's Bay, but on a more family and wallet-friendly tip, this lovely, gentle tour will introduce you to the delightful network of flat, off-road trails that run through this picturesque region. Mixing coastal views with agricultural, vineyard, and estuary settings, you'll be spoiled for choice over the five days, with plenty of things to see and do along the way.
Depending on your crew, you can opt to explore the natural delights of the area, or indulge in visits to wineries, chocolate factories, famous pubs, historic Maori sites, or wildlife reserves.
As above, Hawkes Bay / Napier Airport (NPE) is just 10 minutes away from the tour's start and end points in Napier.
Take your pick and enjoy this peaceful cycle tour of NZ with discounts for children available and child bikes, trailers, and adult e-bikes are also available as optional add-ons to this tour.
3. North Island MTB Journey – 6 Days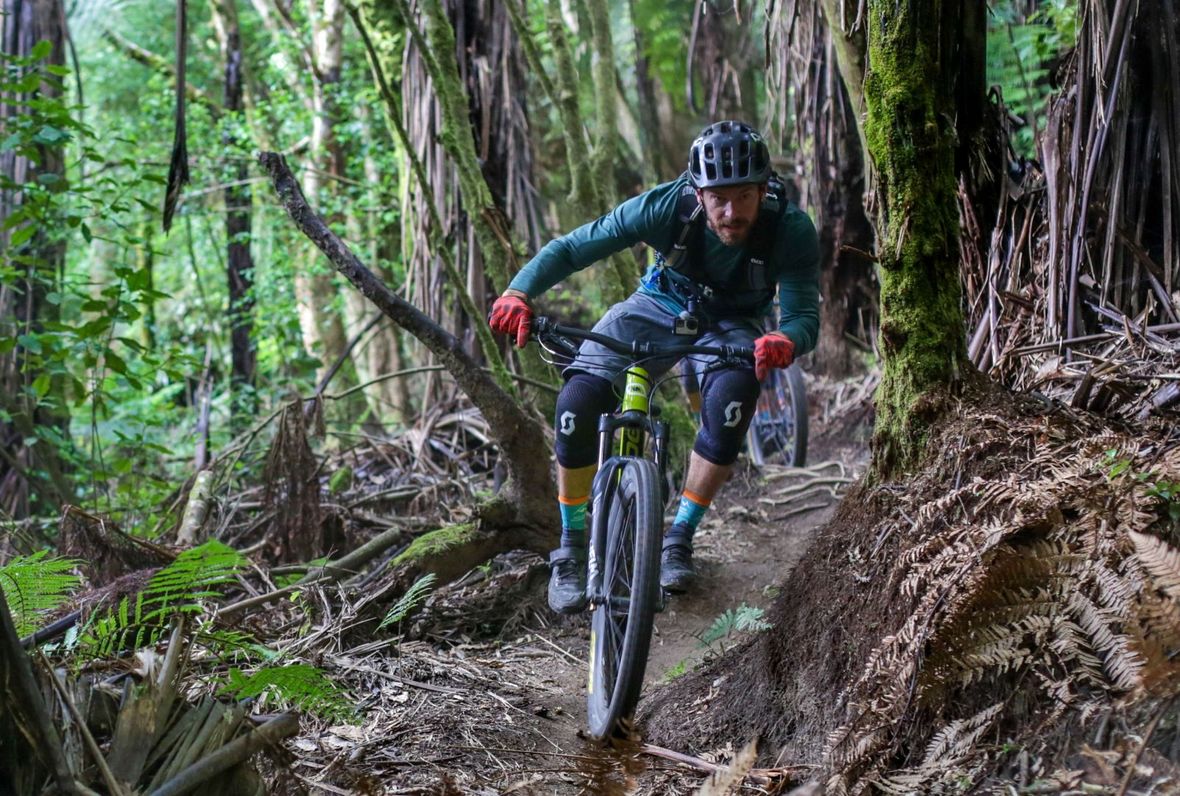 For those with mountain biking dreams, check out this phenomenal trip touring the North Island's greatest MTB treasures. This is a fully-guided six-day adventure taking in the best trails with a mixture of terrain and rides. You'll need a bit of experience as an 'enthusiast,' but can also enjoy new challenges on this one as the excellent local guides will make sure you're fully briefed and able to tackle all the trails thrown at you.
This tour runs from and back to Rotorua, the MTB wonderland of the North Island with the added bonus of being a thermal hotspot for soaking your weary bones after a day's biking activities. The tour also includes some phenomenal heli-biking and rafting. Rotorua Airport (ROT) is a regional hub serving domestic flights within the country.
South Island NZ's Best Cycling Tours
4. Wine Trail Magic Marlborough – 5 Days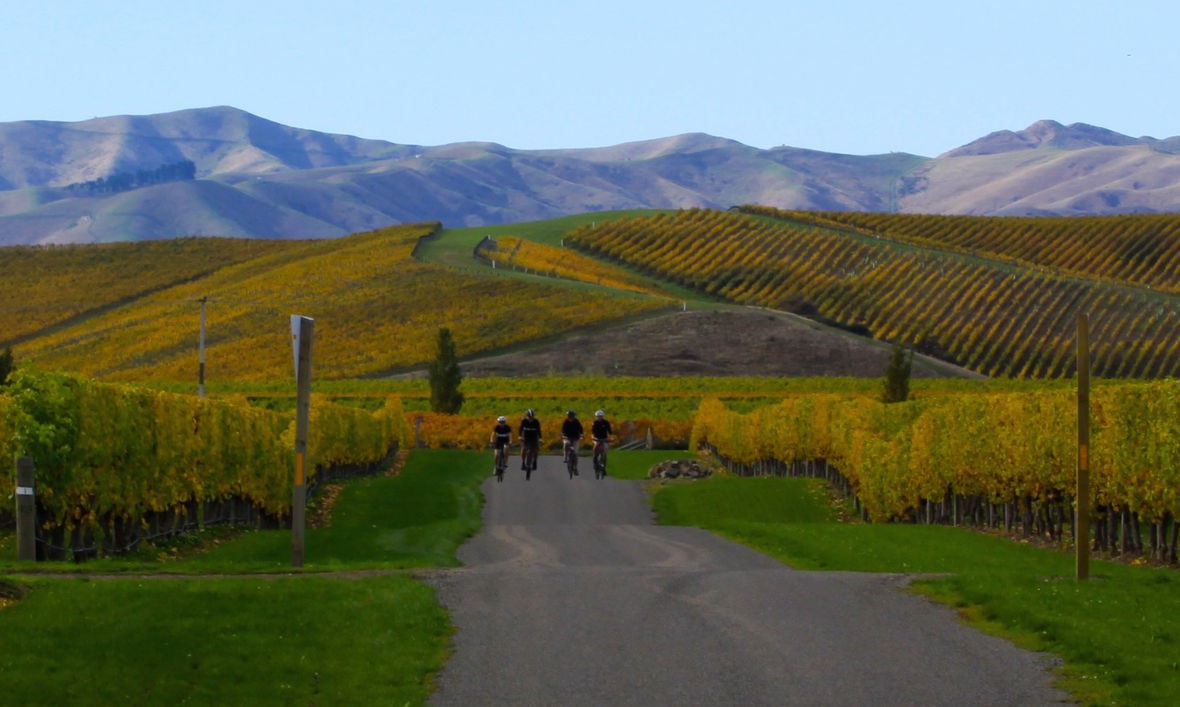 Next up is a delightful, leisurely exploration of the Marlborough wine region, centering around Blenheim, via e-bike. This five-day, self-guided tour is low on kilometers and made all the more pleasant by the assistance of an electric bike as your faithful steed. With light legs you can truly make the most of enjoying the breathtaking scenery, the legendary wine, and excellent five-star accommodations.
The tour starts and ends in Blenheim, Marlborough. Marlborough / Woodbourne Airport (BHE) is a 20-minute flight from Wellington International Airport (WLG) and a five-minute drive to Blenheim. You can also fly into Koromiko Airport (PCN), halfway between Picton and Blenheim. Interisland ferries from the North Island of New Zealand arrive regularly in Picton, which is a 20- minute car ride from Blenheim. Buses and trains arrive regularly in Blenheim.
5. Tour de Great Taste Trail from Nelson – 6 Days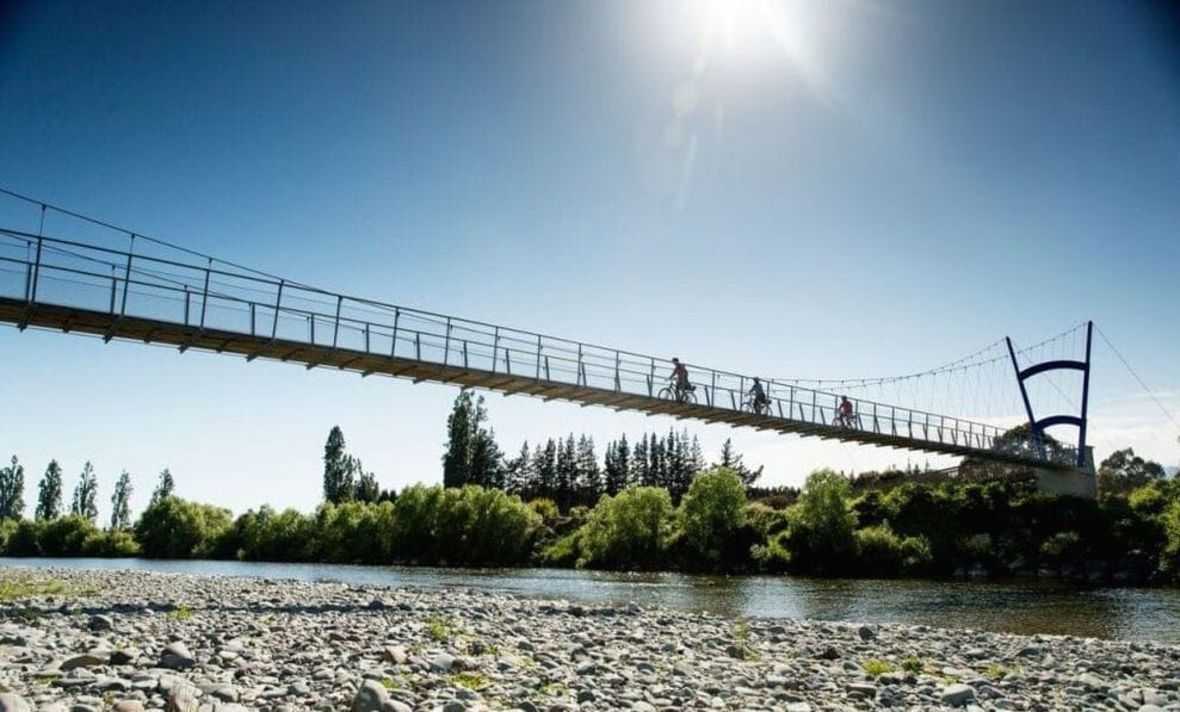 This fully guided bike tour takes you along one of the great cycling trails of NZ. The Great Taste Trail follows Tasman coastline along the top of the South Island near Nelson, heading west to Abel Tasman National Park. This gorgeous region is explored by the off-road, mostly flat, coastal cycling trail with plenty of diversions along the way. Throw in some lovely local wineries, a day in Abel Tasman park, terrific cuisine and lodgings, and you have yourself a six-day tour extraordinaire.
The tour starts and ends in Nelson, where there's an airport on the edge of the town (Nelson Airport – NSN) and regular flights with Air New Zealand from all the major cities in NZ. Driving is also an option, with a scenic drive from Christchurch (416 kms / 258 miles), so probably worth a stopover en route, or arrive via the inter-island ferry taking you over the Cook Strait from Wellington on the North Island to lovely Picton on the South Island.
6. Alps to Ocean Classic – 6 Days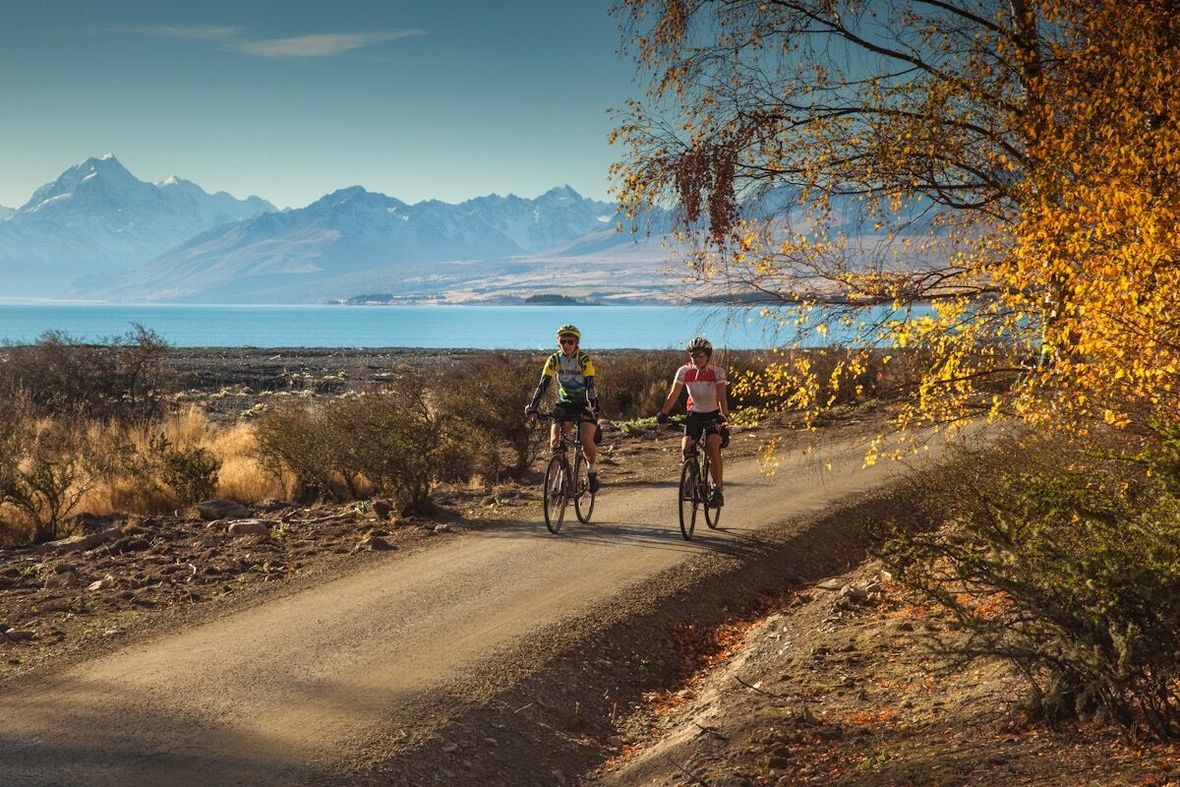 Discover an iconic cycle trail of NZ's South Island, the glorious Alps to Ocean (A2O) trail. This picturesque trail winds through the vivid landscape from Mount Cook's towering peak through valleys and past turquoise lakes out to the Pacific at the east coast town of Oamaru.

Enjoy a fully-guided adventure of the A2O on this tour, beginning and ending in central Christchurch - fly in/out of Christchurch Airport (CHC). Shorter versions of this tour and exclusive e-bike only tours are also available.
7. Tasman to Summit MTB – 7 Days
The southern cousin of the previous MTB tour, this awesome, guided mountain biking tour explores the sublime South's MTB hotspots at the top of the island. You'll be overwhelmed by the mighty scenery, variety of superb biking options, and all round epic-ness of this adventurers' playground before finishing in Christchurch.
This tour runs from Nelson to Christchurch on the South Island of NZ. Nelson Airport (NSN) is a domestic-only terminal whereas Christchurch International Airport (CHC) offers both international and domestic flights.


BONUS BUY: For those with a bit more time, money, and extra underwear, the exceptional Queenstown MTB Gravity Camp tour caters for those wanting to explore the best biking of this renowned adventure capital, whilst also gaining some new skills and honing existing ones. Why not jump on a plane from Christchurch to Q'town and discover what all the fuss is about. It's worth it, we promise you!
8. E-Bike Tour of NZ – 11 days

Finishing our list is this incredible 11-day guided tour via e-bike, traveling on some of the trails of the South Island. Although you do have to be moderately fit for this unique tour, you'll be continually assisted by the e-bike and can always take breaks when needed in the support van.
Aiming to reach out to a wider range of abilities, this fantastic cycle tour of NZ really gives you the opportunity to explore a large part of the South Island via pedal power, even if you're not super fit. Bike the West Coast Wilderness trail, the A2O and several Queenstown trails. Visit wineries, Fox Glacier and Wanaka with many other highlights besides, on this very sought-after tour.

The tour runs from Christchurch to Blenheim, although you can get a ride back to Christchurch at the end of the tour with the tour operator if you prefer. Fly in/out of Christchurch International Airport (CHC).