Taking a family cycling holiday can be a fun way to actively spend time together and revel in the great outdoors with your kith and kin. If you're in New Zealand on family vacation, the chances are you're a big fan of all things bright and beautiful and love nothing more than discovering nature with your tribe. Check out our favorite family bicycle tours of New Zealand that cover all ages and abilities so that you, too, can embark on a wholesome biking adventure with your clan.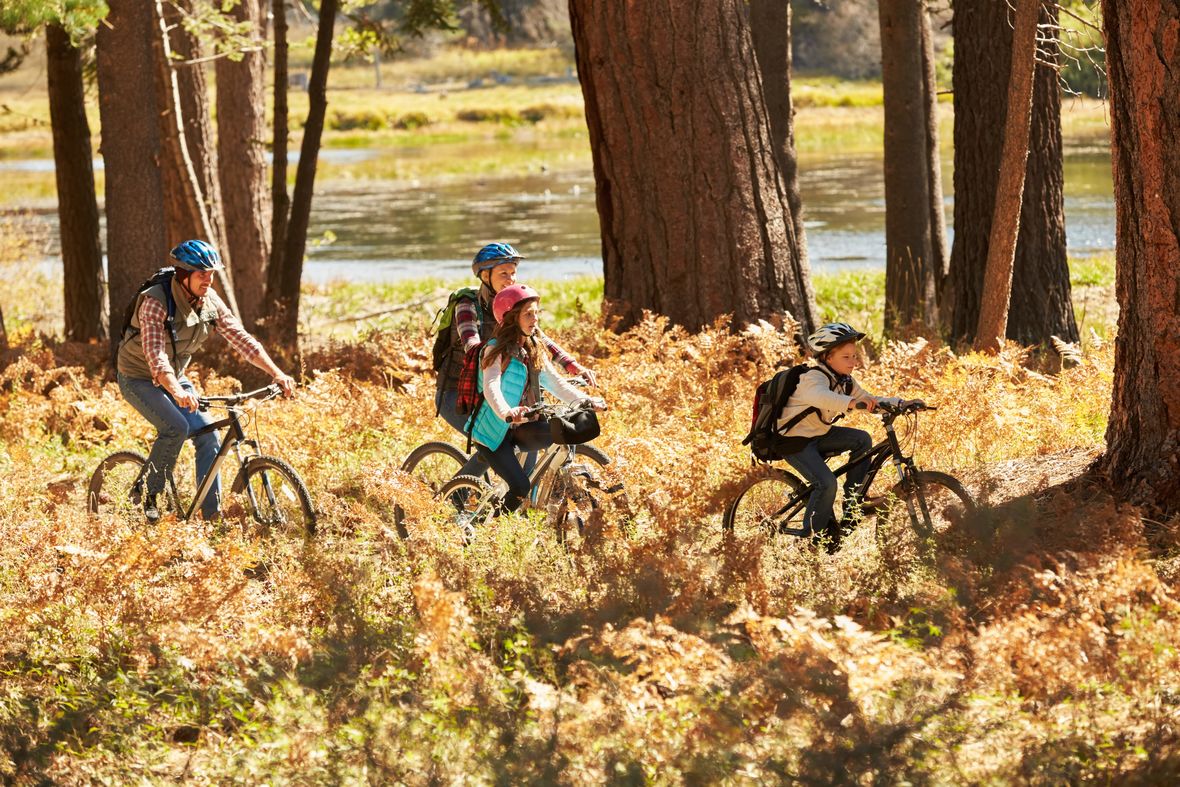 Best for: All-round Family Fun
Our first pick is a gentle introduction to a family cycling holiday in New Zealand's South Island, centered around the coastal nook of Mapua, facing the tranquil Tasman Sea. With an array of activities to keep everyone entertained, this is a fantastic choice for keen family cycle tourers. The thoughtful itinerary includes sections of the wonderful Great Taste Trail – one of NZ's Great Rides - with easy/flat terrain along some stunning coastal sections, and a plethora of attractions for kids and adults, too. You can also opt to spend a day in Abel Tasman National Park, a stunning jewel of the coastline, and suitable for all ages.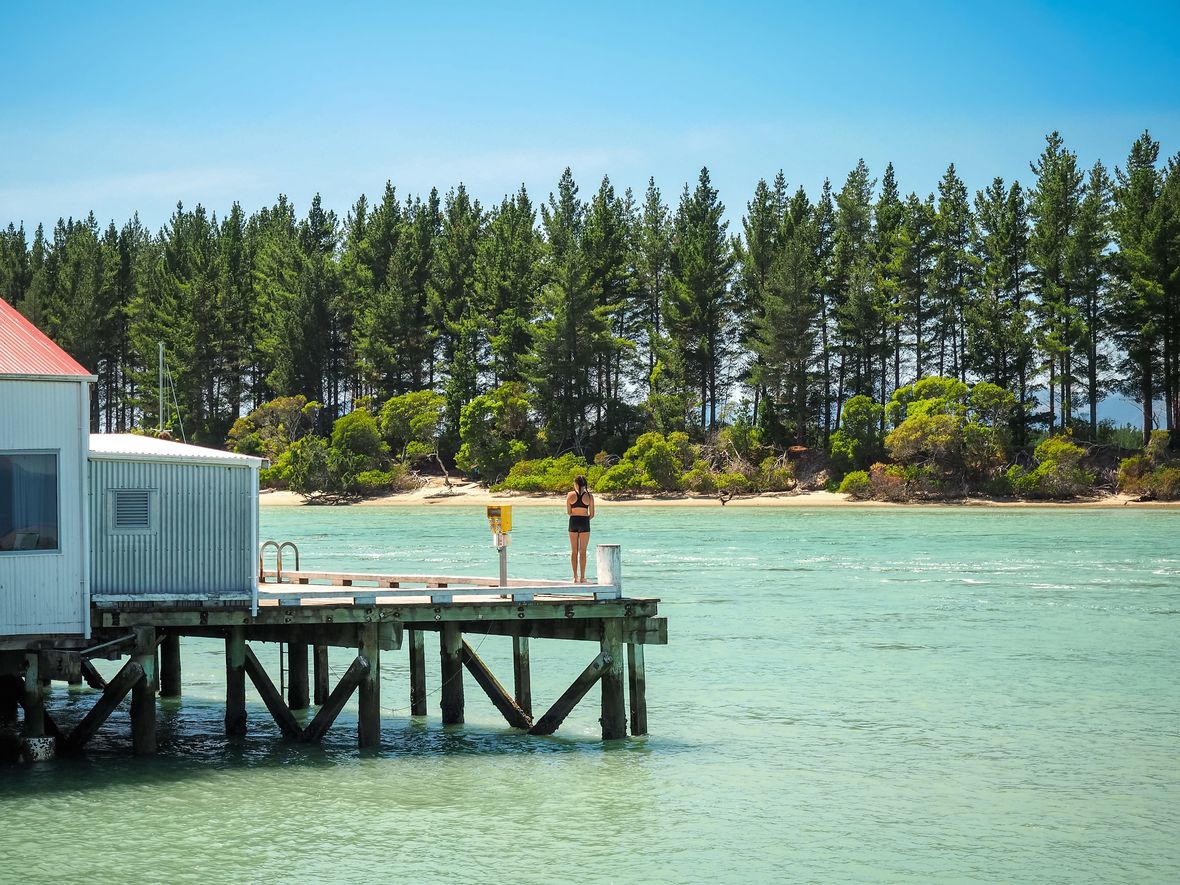 On this trip you'll benefit from the local expertise of the tour operator, allowing you to maximize the self-guided nature of the package and travel at your own pace during the week. Not just family-friendly, this kid-friendly tour is a great introduction to dipping your toe in the welcoming waters of a family biking tour and offers family package prices too.

Best for: Children Ages 0–6
If you have very small children or babies in tow, a shorter trip would seem to make more sense, especially if it is your first foray into cycle touring as a family. Roar Adventures offers a host of family-friendly tours in the Hawke's Bay region with operators who can supply a range of bikes and accessories to accommodate all ages; infant seats on adult bikes, trailers, Wee-Hoos, and tag-alongs are all possible, as well as child-sized bicycles.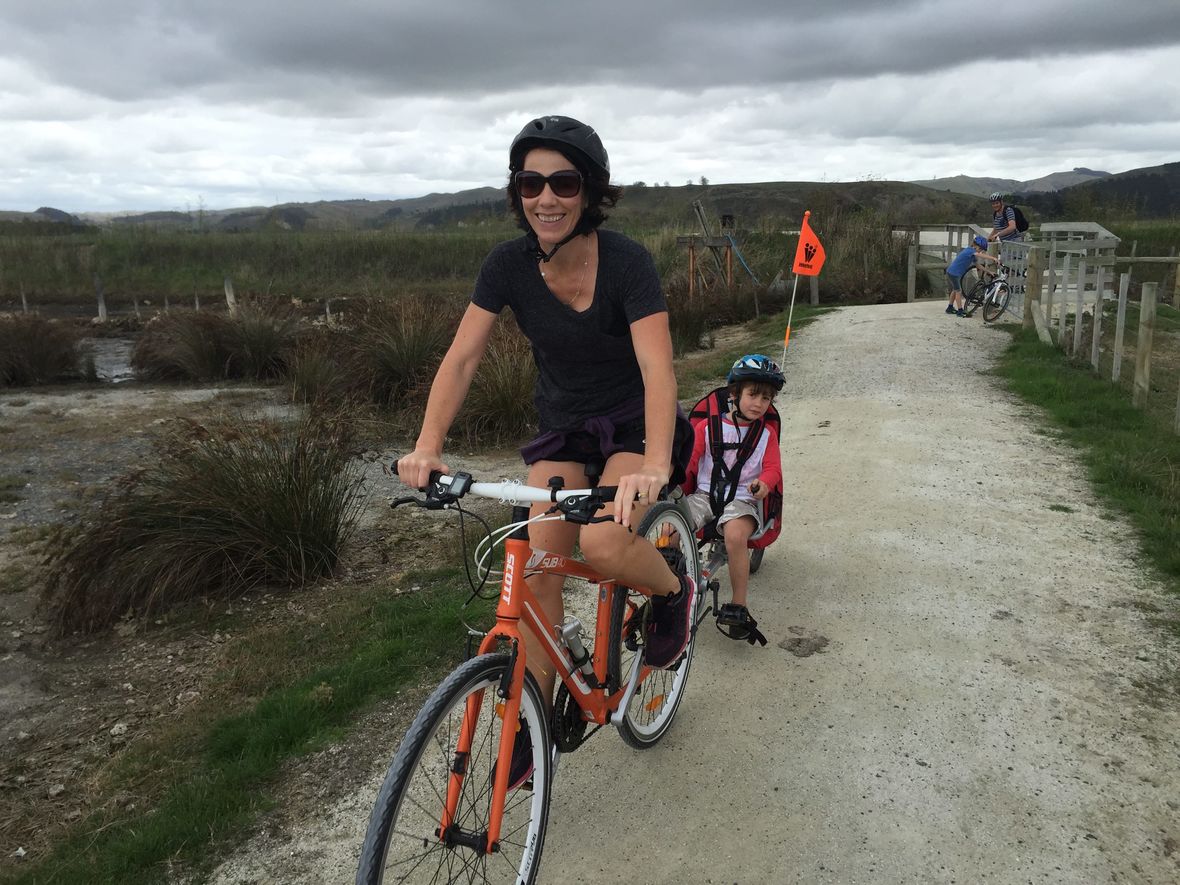 The extensive trail network in this region is another of NZ's Great Rides and offers a supremely safe, picturesque, and tranquil cycling experience on flat, tailor-made paths, meandering through rural scenery and often with coastal views. What is suggested here is a choice of two half-day tours of gentle nature with a mixture of adult and child attractions along the way. A short half-day tour gives a budget-conscious taster into whether cycling with the smaller kiddies is something that brings you (all) joy! Of course, if you already know you're up for a longer stay, then peruse the entire family bike tours selection for greater options.
Best for: Children Ages 7–12
Lingering in the Hawke's Bay region, this three-day self-guided family biking tour is the quintessential all-rounder that is perhaps especially suited for children in this age bracket. On tour, feel yourself relax as you embark on a multi-day exploration of this timeless region, watching children fishing and playing as you cycle by. Treat the kids to the aforementioned chocolate factory visit, Maori Pa site, and animal encounters as you enjoy a family cycle through this unspoiled part of NZ.
Wildlife abounds on this fun-filled route, with family-friendly swimming spots, gorgeous cafés, and beaches at every turn. Enjoy the pleasure and surprises that each day brings on a cycling adventure tour with your loved ones. Of course, there will be time to discover the rich wine heritage of Hawke's Bay — and with the children happy and tired from an active vacation, you'll sleep like the proverbial, slightly tipsy, log.
Moving down New Zealand to the lower South Island, this six-day self-guided cycle tour offers safe and family-friendly biking on the mighty Otago Rail Trail. The Central Otago Sojourn is suitable for those families with previous cycling experience and the itinerary offers a touch of luxury in the level of support provided and the quality of the accommodation.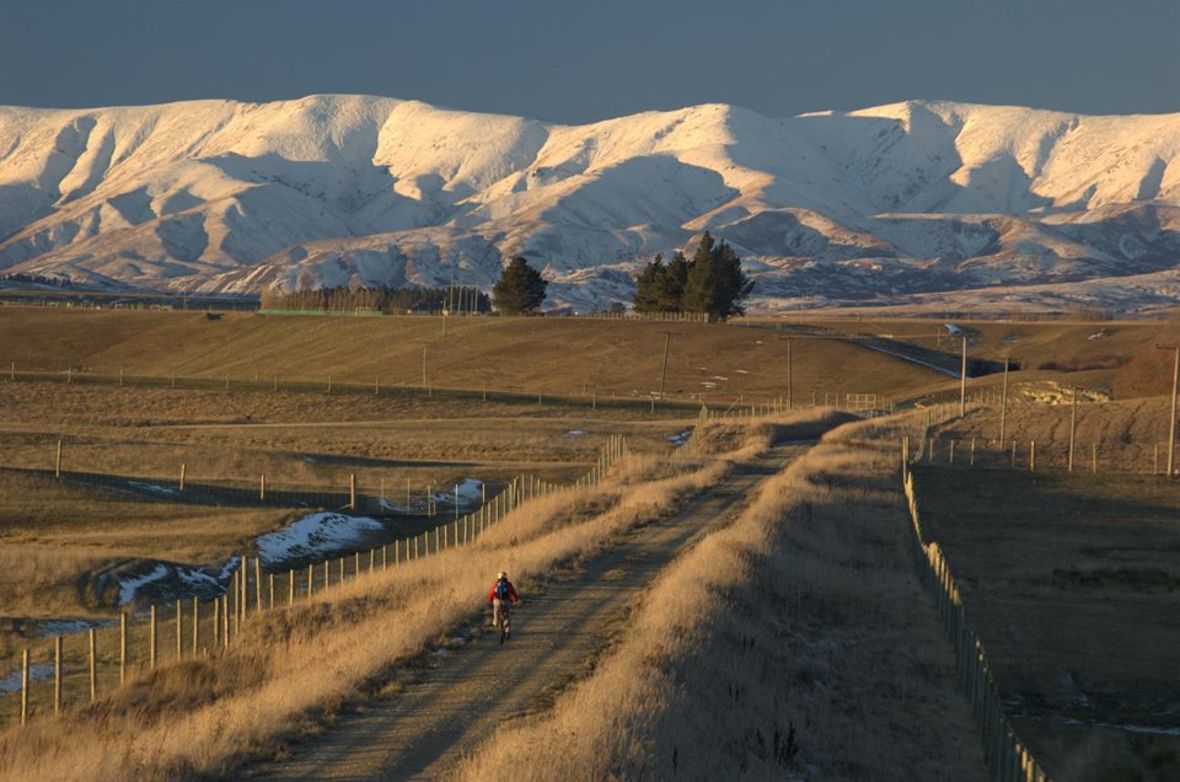 There are exhilarating activities included and more to add on for those who dare. You are, after all, very close to Queenstown here — the mecca of outdoor adventure and adrenaline-pumping fun. This tour includes thrills that are sure to win the kids over: a 4WD safari, boating on the Clutha River, and trying your hand at ice curling. Optional adventures include kayaking and hiking.
The rail trail itself is a historic, clearly disused, railway line that has been converted to a cycle-friendly byway, framed with stunning scenery and boasting a wealth of interesting tidbits. Another of NZ's Great Rides, the Otago Rail Trail tour offers safe cycling, exciting adventures, and luxurious lodgings — a family holiday to remember for the ages.


Best for: Children Ages 13–18
Jumping up to the top of NZ's North Island, the Coast to Coast Rail Trail four-day guided tour starts in Auckland. On this guided adventure, you and your crew will be transferred to the beautiful Bay of Islands to begin another "rail trail" cycle tour through serene and scenic landscapes. This trip brings you face to face with the giants of the land, a visit to the majestic and historic Kauri forest. Work in some coastal encounters by adding an extra night in Russell, with kayaking and swimming with dolphins possibilities on the menu of fun.

Also starting in Auckland, the Hauraki Rail Trail three-day tour is another great, guided option for families. Perhaps the highlight of the tour for youngsters (and old folk) is the visit, on the final day, to the Hobbiton Movie Set used for The Lord of the Rings and Hobbit films!
Ride along the glorious rail trail heading to the coast and discover beautiful beaches, waterfalls, and tranquil wetlands. Another spellbinding feature of the tour, is riding through the spectacular Karangahake Gorge, one of the '14 Wonders of New Zealand.' The cherubs will especially love the 0.7 mile section of tunnel you cycle through here. Imagine the fun you'll have!


Best for: Families with Kids 18+
For the families who love to cycle tour together, even if the kids have flown the nest, these two fabulous tours of New Zealand are sure to be on the bucket list. Firstly, a uniquely wonderful exploration from north to south, or vice versa, via e-bike on a 17-day epic tour of NZ. What an amazing way to discover the land of the long white cloud, with your loved ones, on the back of an e-bike, sailing through spectacular landscapes with a host of activities and sights in store.
The E-Bike Tour Of New Zealand is fully guided and supported with a bus available at any time if you fancy a break. Highlights include the jade capital of Hokitika on the west coast of the South Island, Abel Tasman National Park (with land and sea activities galore), the pristine Marlborough Sounds with water taxi rides, hiking, and cycling, the exciting thermal area of Rotorua on the North Island, visiting the "Shire" from The Lord of the Rings, and exploring Waiheke Island, close to Auckland. Create the best of memories on an unforgettable cycle tour.

Last, but by no means least, experience a 10-day cycle tour of NZ from Christchurch to Queenstown with your nearest and dearest. West Coast Cycle tour is classified as a moderate bicycling tour with two challenging days; the support vehicle is always at hand for any respite and additionally, e-bikes are available to hire.
This shining star of a tour brings together the absolute highlights of New Zealand's South Island in one mesmerizing adventure. Pedal to the famed Punakaiki blowholes, meander south to the statuesque glaciers of Franz Josef and Fox, ride through lush rainforest, past glassy lakes, admire the Southern Alps, and fall in love with Mt. Aspiring National Park. A high point of the tour is staying at a wilderness lodge in the rainforest, with the chance of sighting penguins on the beach! Finish the tour in style as you roll into the adventure hub of Queenstown keen for more action, dazzling scenery, and the very best of times with your brood.

Roar Adventures has a whole category of family-friendly tours available ⁠— or contact us if you have something else in mind for a custom tour.