Think of New Zealand and no doubt you'll envisage a natural paradise with soaring alpine peaks, clean air, stunning coastlines, and fertile plains. New Zealand is an active landscape in every sense. In what could be described as a symbiotic relationship, proud Kiwis, lovers of their wild land, have developed a tourism industry that relies on the epic natural beauty of the country, something that will ensure ongoing conservation and undoubtedly evoke adoration from all who visit.
For cyclists, the land of the long white cloud offers a utopian playground with options for all styles of riding and ability. Mountain biking in New Zealand is quite simply phenomenal, with remote and challenging offerings bathed in superior surroundings and coupled with exhilarating, heart in the mouth, adrenalin-pumping riding around every corner. The NZ Great Rides network details extraordinary, mostly off-road, cycling trails throughout this wholesomely raw landscape.
With so many options to choose from, it can be overwhelming deciding where to start. Here we have pulled together ten of the best spots to experience mountain bike riding through the North Island and South Island of New Zealand to give you the scoop and make it easy to choose where you'll head next.
New Zealand's mountain bike trails can be experienced in bite-sized chunks and many of the areas listed here would suit a short trip. For those lucky enough to have more time, go the whole hog and forgo the difficulties of choosing from this array of awesomeness; discover epic MTB tours of longer lengths throughout the entire country.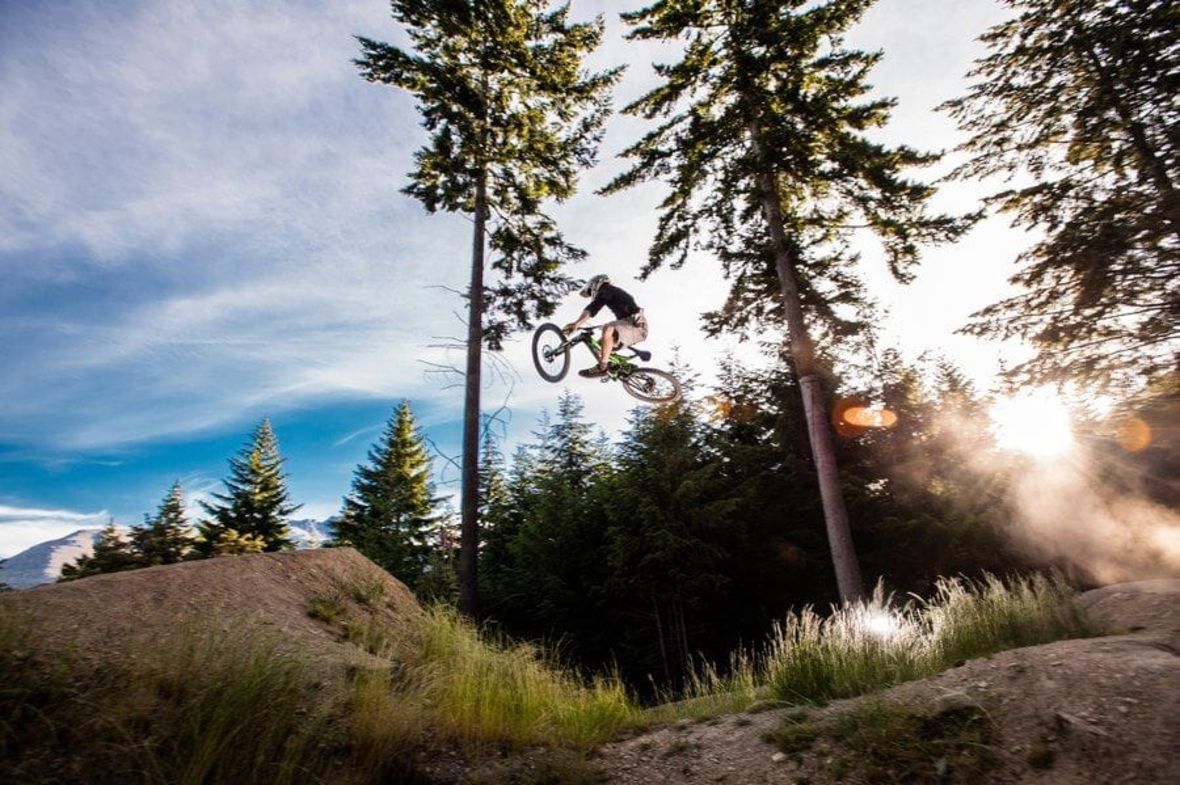 North Island
5. Bridge to Nowhere Trail, Ohakune
Skill Level: Intermediate
This mysterious sounding trail, spanning 22 miles, literally does include an impressive bridge leading to, well, nowhere. The story behind the mystical bridge and the trail leads back to over 100 years ago, when soldiers returning from war were given lands here to settle and tend. The untamed wildness of the area soon put a stop to settlement, but today you can follow in their tracks and marvel at the rugged landscape and the awesome strength and beauty of Mother Nature. The trail includes some rewarding ascents with views across ridges and treetops and can conclude with either a pant-wetting jet boat ride or kayak trip to end in true adventurer style.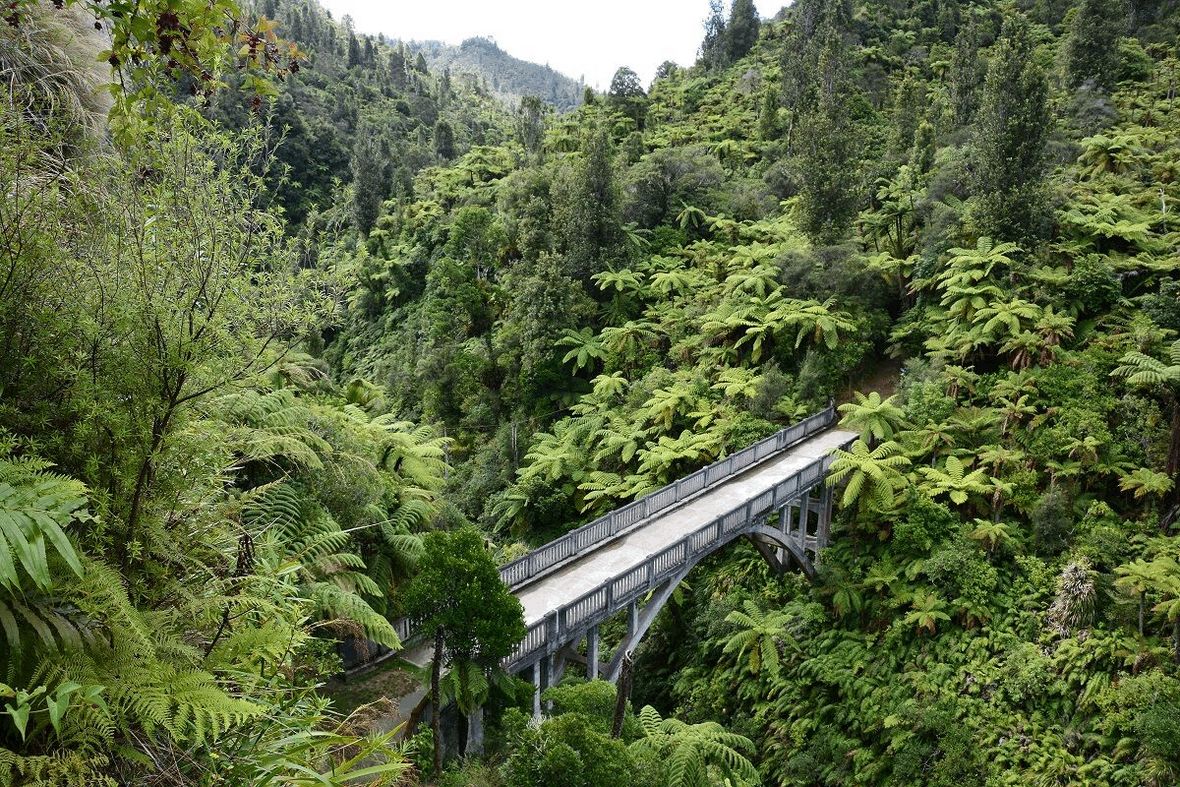 This short MTB trail can be completed in a day or forms part of a longer, 'Mountains to Sea Cycle Trail'. Alternatively, the North Island Trail Hunter MTB tour includes the Bridge to Nowhere trail:
4. The Timber Trail, Taupo
Skill Level: Easy to Intermediate
Just over one hour from Taupo and covering 54 miles of expertly built trails through the Pureora Forest Park, this leafy gem is also blessed as being one of New Zealand's 'Great Rides'. Following the old logging tracks and tramlines, you can experience peaceful and easy-going mountain biking through lush forests where ancient trees mingle with exotic beauties. The chilled out pace may occasionally slap you in the face with some thrilling suspension bridge crossings and you'll be constantly in awe at the breathtaking scenery on this ride.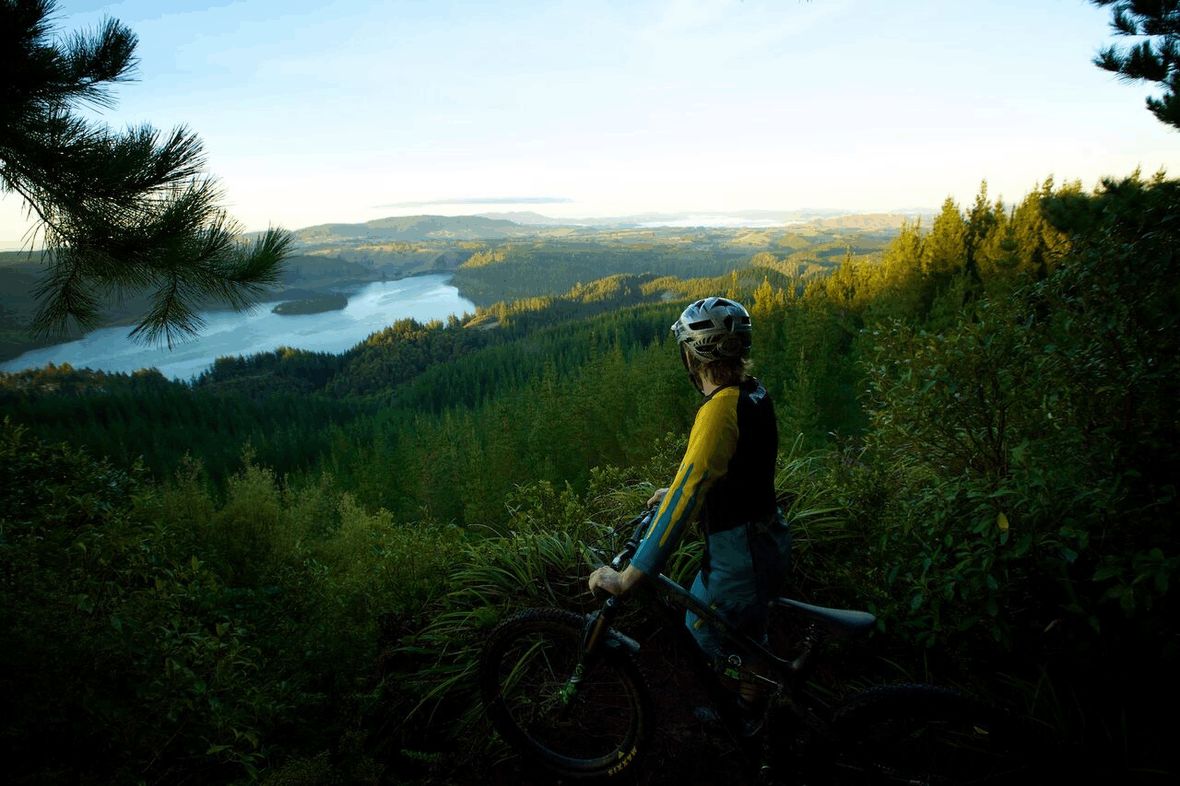 3. 42 Traverse, Tongariro
Skill Level: Intermediate
The wise old man of the scene, the 42 Traverse has been around since MTB in New Zealand was in short pants. This hardy original is still considered to be one of the finest, skirting around the remarkable Tongariro National Park. Chasing old logging tracks through native forest and featuring an exhilarating amount of descents, this 29 miles ride is pure New Zealand bliss. Wild, remote, and full to the brim with bird life, the 42 Traverse is the quintessential NZ biking experience.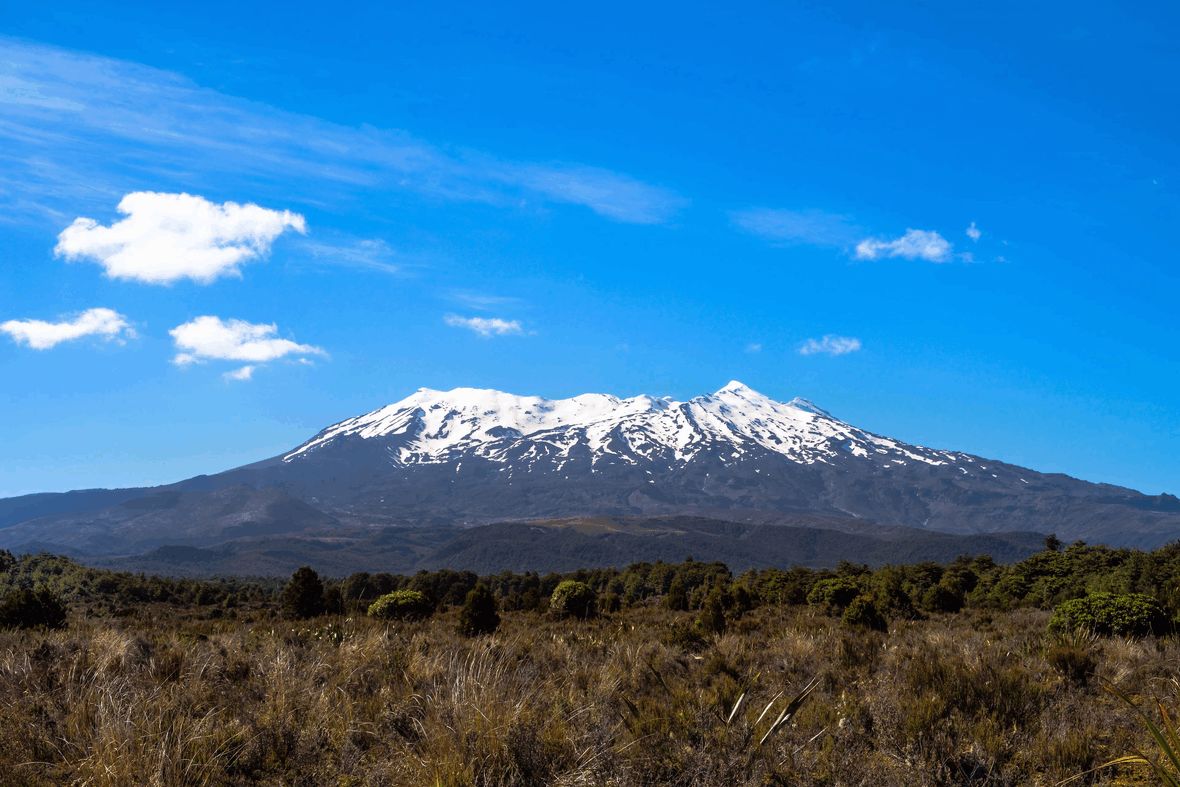 Take your own bike and explore the 42 Traverse as you journey through the North Island, the route is located 1 hr 15 minutes from Taupo and is close to National Park Village. Find more information at the NZ Department of Conservation, or contact us to design a customized tour that can incorporate this route.
2. Great Lake Trail, Taupo
Skill Level: Intermediate
Lake Taupo, New Zealand's largest lake, is the setting for this inspiring 44 miles trail, throwing a variety of terrain and landscapes into the mix for the ultimate mini MTB adventure on the North Island. Easy to access from the town of Taupo town, but still offering wilderness views, secluded beaches, lapping shores, fertile forests, and spellbinding waterfalls, the diversity of the local scenery is astounding. Chucking in the graceful peaks of Tongariro National Park for good measure, you'll be amazed to find such jaw-dropping vistas coupled with excellent MTB riding over a span of just a few days. Welcome to New Zealand!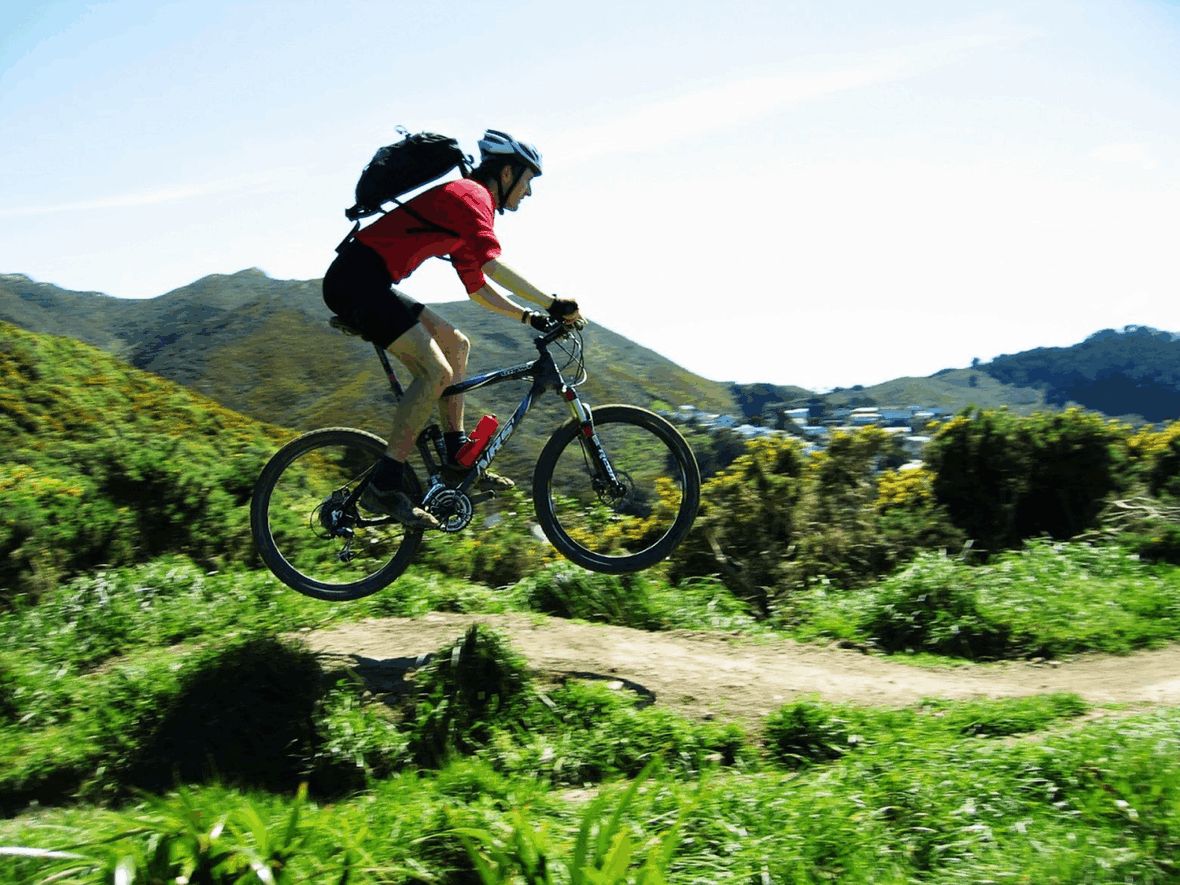 The Great Lake Trail is part of the NZ Cycle Trail and can be split up into smaller sections or cycled completely over a few days.
1. Whakarewarewa Forest / The Redwoods, Rotorua
Skill Level: Easy to Expert
You might know Rotorua as the home of the distinct whiffy smell of sulphur, giving a not-so-subtle hint of the mud pools, geysers, and geothermic delights that lie in this quirky and heritage-rich hub of the North Island. What you might not know is that it's also home to one of the best of MTB meccas in the world. With such experts as Australia Mountain Bike (AMB) magazine stating The Redwoods carry the title of 'world's best mountain bike trails', Red Bull TV gushing over Rotorua's MTB heaven, and with IMBA gold level ride status, Whakarewarewa Redwood Forest trails are definitely not to missed. But don't be put off by the accolades if you're a beginner, with over 99 miles of trails, the forest caters to all levels of riders with a huge variety to choose from and a vibrant supportive community.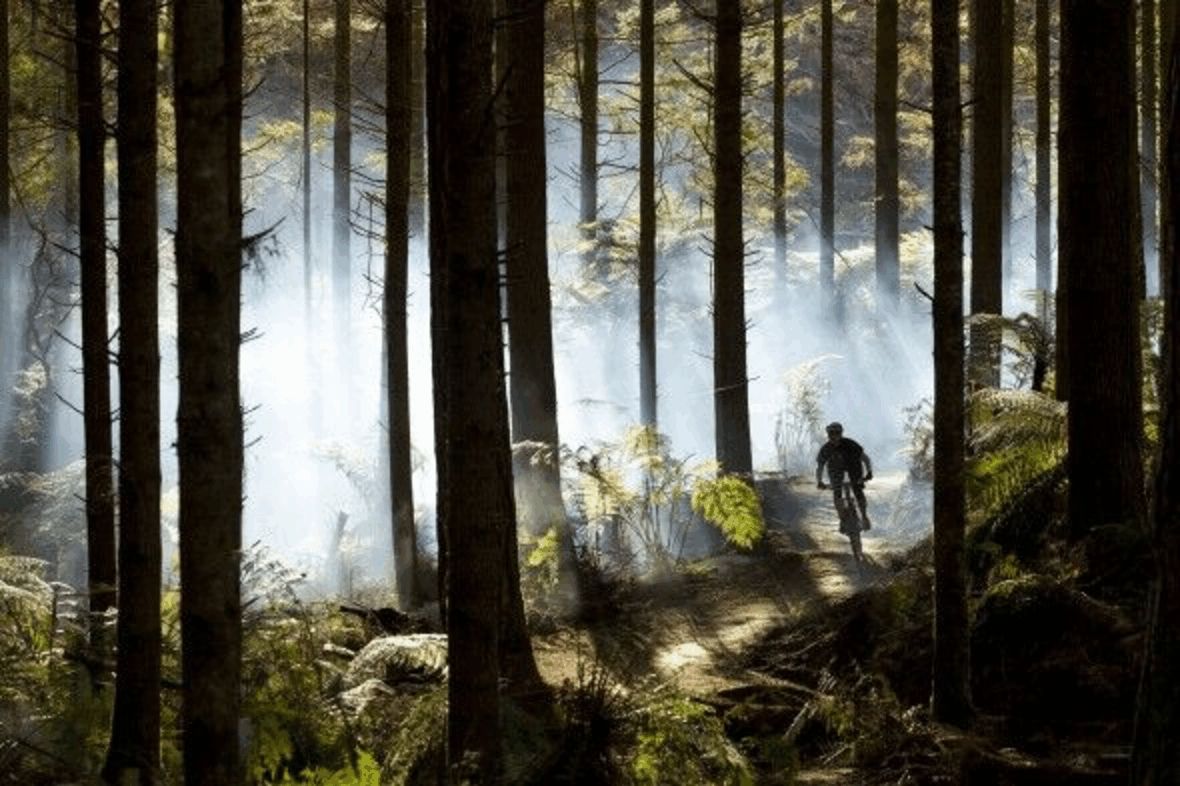 Whilst visiting Rotorua, you could also check out the Skyline Gravity Park for an intoxicating shot of downhill action. The park is gondola assisted and has hosted both the EWS Enduro and the Crankworx Downhill MTB.
South Island
5. Craigieburn Range, Southern Alps
Skill level: All Abilities
An hour from Christchurch and close to Arthur's Pass lies the network of single track MTB rides at Craigieburn. Encompassing a variety of options to suit every palate, Craigieburn offers pulse-quickening downhill rides through ski areas, forested tracks, valley plains, and epic cross-country jaunts. With enticing landmark names to discover, such as Texas Flat, Hogs Back, Waterfall Creek, and Long Spur Ridgeline, you could easily spend several days exploring here.
4. Queen Charlotte Track, Marlborough Sounds
Skill level: Intermediate to Advanced
The pristine jewel in the crown of the South Island, the Marlborough Sounds' unique forested valleys sunken into the crisp Tasman Sea provide a sublime backdrop full of wildlife and natural splendor. The Queen Charlotte Track, covering 44 miles through this MTB playground, offers a single track ride suitable for a range of abilities, boasting wide paths yet having some challenging, technical sections, which does require some skill. The track can be completed in two to three days, or you can complete smaller sections of the track if your time or fitness are limited.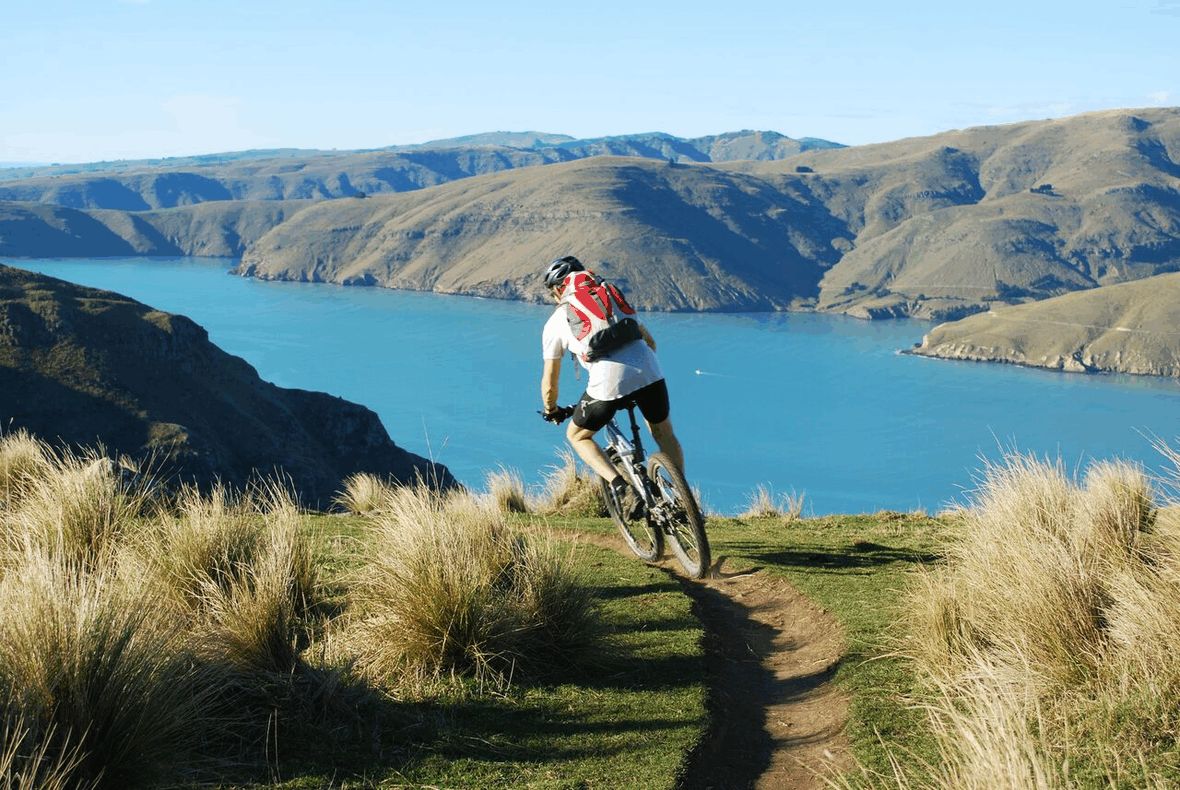 Join this 10-day MTB tour running from Christchurch to Picton, exploring many epic trails on the South Island:
3. St James Cycle Trail, Canterbury
Skill Level: Easy to Advanced
Just 6.2 miles from the thermal spa village of Hanmer Springs and nestled in outstanding alpine scenery, the St James Cycle Trail winds it way through remote and spectacular wilderness over 41 miles. The complete trail is challenging but offers handsome rewards — biking alongside alpine meadows, mountain peaks, glassy lakes, and rushing rivers, accompanied by the famous wild horses that reside here during the warmer months.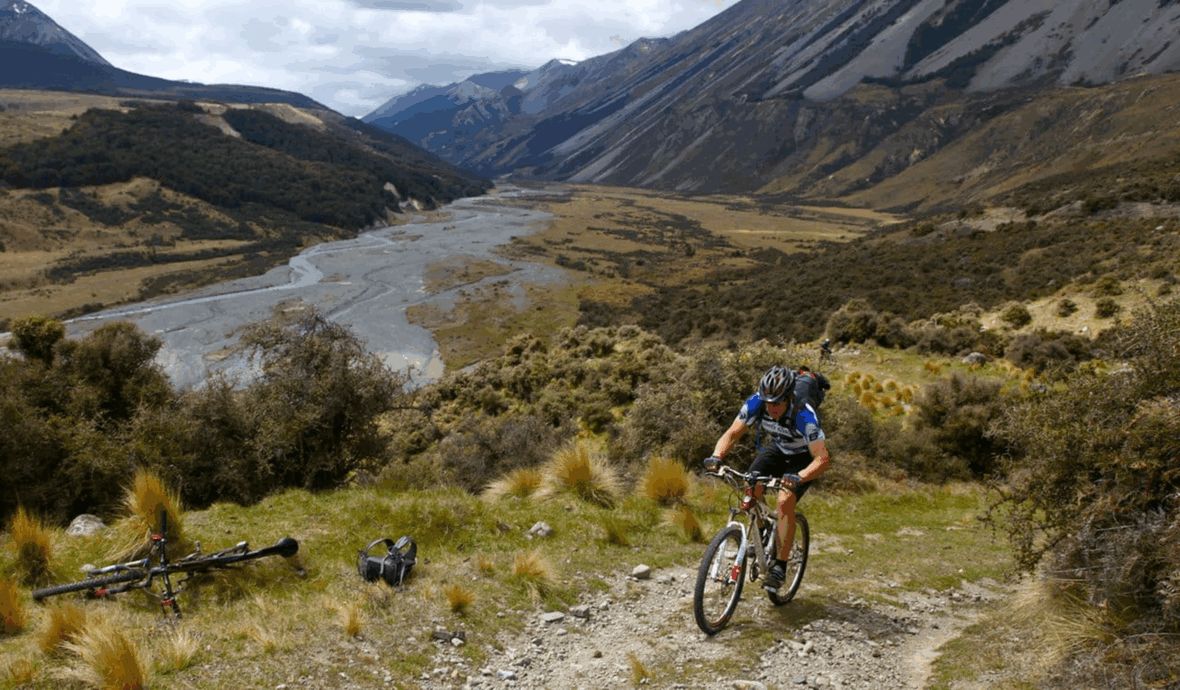 The trail can be extended by completing a full loop, or by starting/ending in Hanmer Springs. In Hanmer Springs, a wonderful place to relax, there are also biking tracks at the local Heritage Forest to explore. For those looking for an easier ride of the St James Trail, there is a 100 miles loop specifically designed for families or for those short on time.
This fantastic 15-day MTB tour includes the St James Cycle Trail as well as many others on the South Island, running from Christchurch to Christchurch:
2. Old Ghost Road, Westport
Skill Level: Advanced
The name evokes a well-worn trail through rugged wilderness and that is exactly what this ultimate alpine trail delivers. Proudly sporting the title of NZ's longest single-track ride, this 51 miles MTB journey offers challenges by the bucket load as you travel cross-country on the old gold miners' route from Lyell, in the heart of the Buller Gorge, to coastal Seddonville.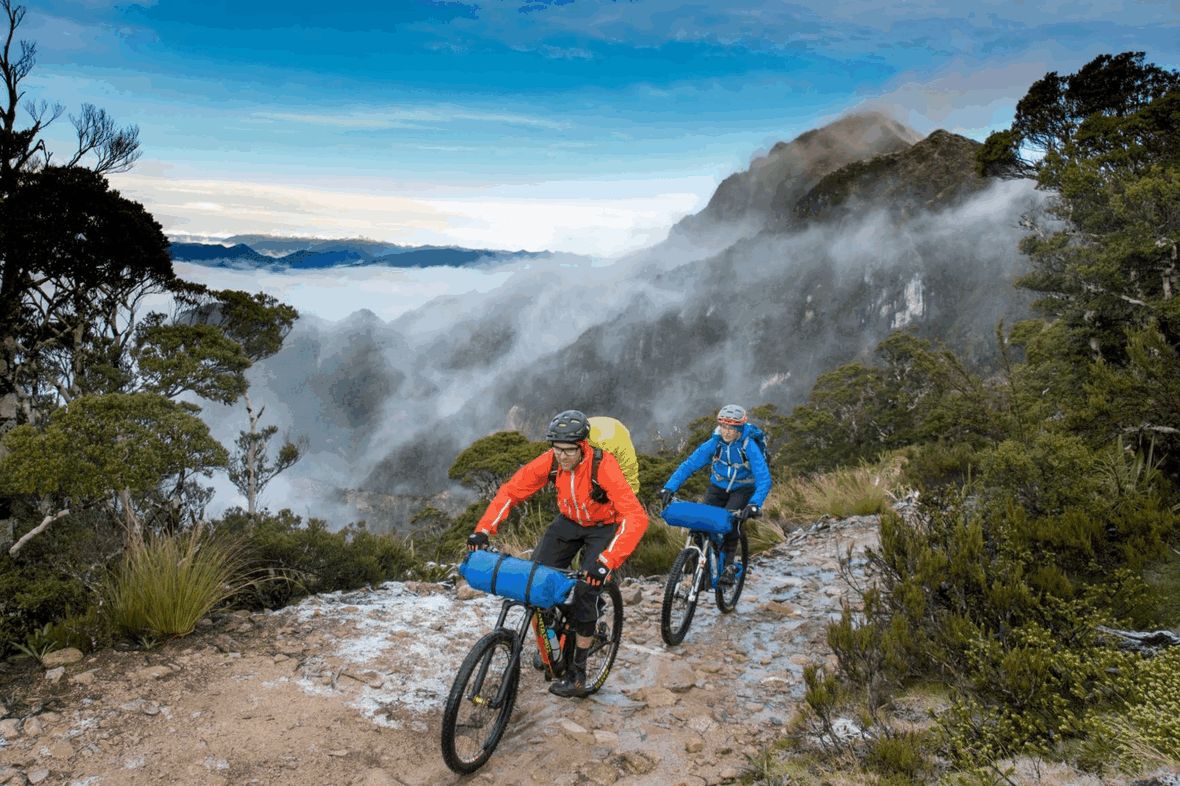 1. Queenstown
Skill Level: Easy to Advanced
The mother of adrenaline-fueled activities, breathtaking landscapes, and heart-stopping thrills, Queenstown's reputation is rightly deserved and mountain biking here, in the belly of the South Island, is downright majestic, exhilarating, and a whole pile of fun. In Southland's alpine vicinity you'll find adventures to suit all skill sets from the single-track high country circuit of the Welcome Rock Trails, to the famed Coronet Peak, 'Rude Rocks Track', the curiously named, 'Sticky Forest', and the gravity-defying descents at Queenstown MTB Park. This area is bursting to the brim with awesome rides, so take your pick.