Some things just belong together, and two of those things are love and bicycles. Take a tandem tour of the sites of Paris, cruise the canals of Venice, indulge in food and drink while watching the sunset over Croatia with your love. Romance is around every corner as you pedal your way through the most romantic cities and landscapes in search of passion and love. Some trips are obviously romantic, and some may catch you by surprise; the best thing to do is to go with the flow whenever possible.
What makes a trip romantic? Is it the rolling landscape? The culture? Or is it the food and wine? It's hard to pinpoint what one thing makes an experience a romantic one because romance lives in harmony with a number of influences, landscapes, and experiences. This means each type of romantic experience can appeal to a number of riders. Some find romance is the architecture, museums, cafes and markets of classic cities, while others find it in the rolling fields, hilltop castles, and meandering streams of the countryside.
Romance can be found anywhere you set your tires as long as you have your loved one with you. The scale and intensity of the tours can vary greatly as romance cannot be contained by geography or distance. Tours can be kept as simple and easy as an urban crawl through various cultural sites, restaurants, and markets, focusing on the beauty of the urban environment. Other tours are more demanding; you may wind your way throughout the landscape chasing sunsets, finding lost temples, and indulging in the wonders and sights found off the beaten path.
Romance is in the air so make sure to bring your loved one and your bike and set out to relight the love and passion in your life.
Search all Romantic tours
Popular Tours
Discover some of our most popular Romantic adventures.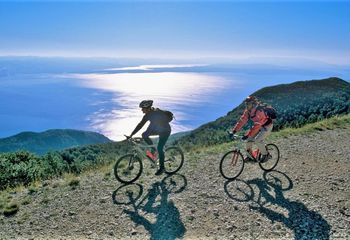 Join an amazing Adriatic adventure as you pedal the Istria peninsula.