There's nothing quite like touring the countryside at a leisurely pace, admiring the tranquilly lush scenery that surrounds you and feeling somewhat smug as you're on a cycling holiday, which sounds like an oxymoron and yet, here you are, pedaling through the vineyards, smiling ear to ear. That's the fun thing about wine tours by bike, they feel like a wholesome experience but there's wine to be tasted as well! It really is a win-win situation.
New Zealand is a magnificent destination for any cycling enthusiast and wine lover, offering a diverse and stunning array of choices from the depths of the South Island to the top of the North. The country's wine is known throughout the world and the unique topography of each region produces a wealth of distinctive flavors for you to sample as you cycle tour the vineyards and their wineries.
We've pulled together a variety of NZ wine tours here that explore each region's viticultural delights. From guided to self-guided, tours that offer challenging cycling or those that give more time for wine meanderings and the possibility of easy-going e-bikes, to the diversity of the regions, there's choice aplenty and something to, quite literally, suit every taste.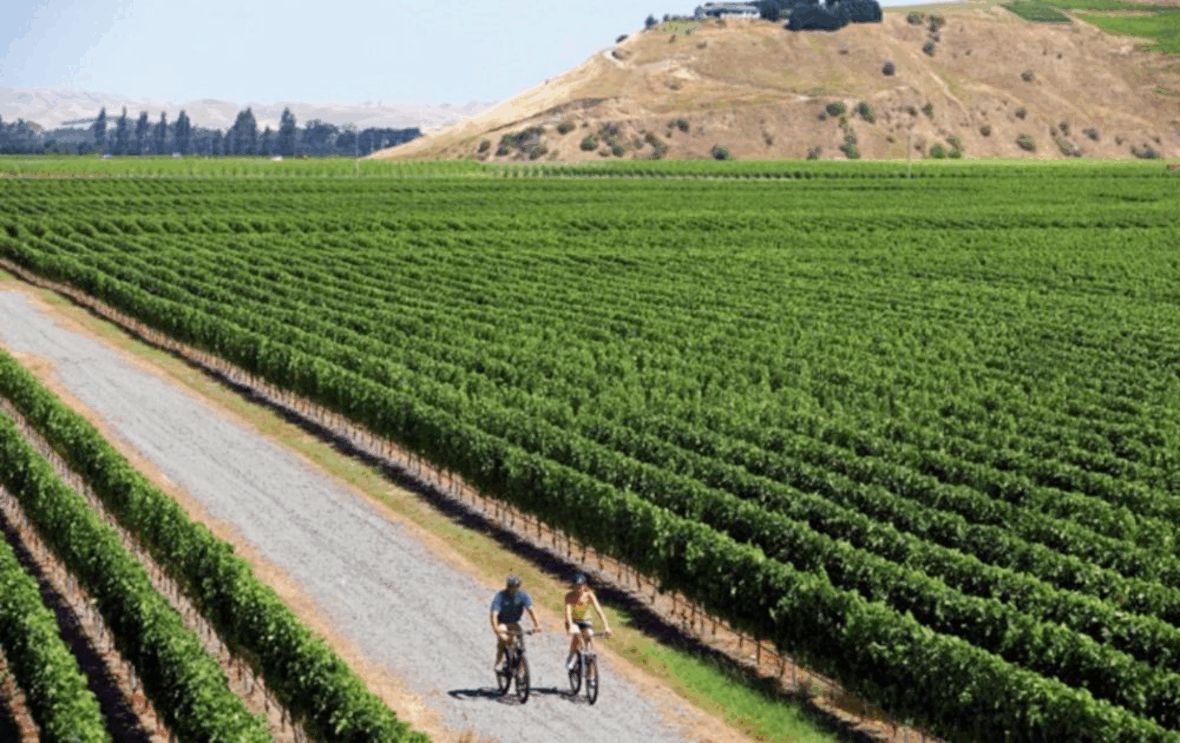 1. Marlborough
For a region so well known and loved, Marlborough still feels charmingly understated in places and is the perfect spot to experience a superb vineyard bike tour. You'll find many recognizable names here (Cloudy Bay and Hunters are just a few), which is no surprise as Marlborough produces approximately 75% of NZ's wine, establishing the region as the mother of the scene with a distinct and domain-defining Sauvignon Blanc. Perched at the top of the South Island, close to the spellbinding Marlborough Sounds, the region is steeped in rich, fertile valleys resulting in timeless beauty and fine tasting produce for your enjoyment.
Spend five glorious days discovering Marlborough on an e-bike with this self-guided tour around the cellar doors:
The tour starts in Christchurch, a major transport hub with Christchurch International Airport (CHC) centrally located. The tour ends in Blenheim, with nearby Marlborough Airport (a.k.a Woodbourne Airport - BHE) or Koromiko Airport (PCN) offering local domestic flight options. Inter-island ferries from the North Island of New Zealand arrive regularly in Picton, which is a 20-minute car ride from Blenheim, and buses/trains are centrally located.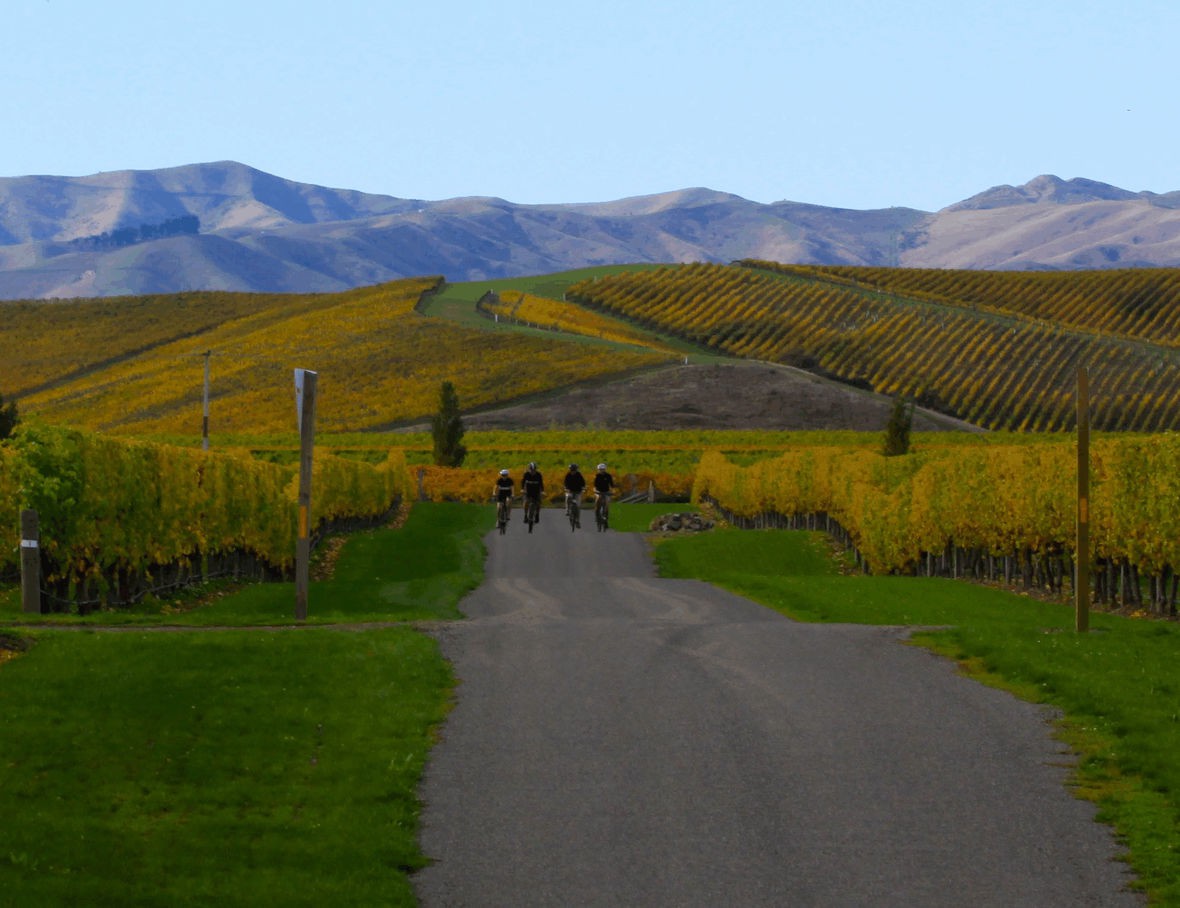 2. Hawke's Bay
Located on the east coast of New Zealand's North Island, the Hawke's Bay name resonates as another celebrated and eminently popular region for those of us who partake in fermented grapes. Happily, for the avid wine buff who also likes to explore by bike, Hawke's Bay is home to a fantastic network of off-road trails, part of the excellent New Zealand Cycle Trail, providing a safe and somewhat leisurely way to discover the region. Explore the plethora of welcoming cellar doors at the vast Gimblett Gravels appellation, or perhaps meander the Cape Coast wineries of Elephant Hill and the Clearview Estate (to name a few), whilst enjoying the peace and serene beauty of the region.
Roar Adventures offer an ample selection of bicycle tours in the Hawke's Bay region from day trips to longer excursions. Perhaps try a four-day luxury food and wine exploration of the region:
Or a five-day self-guided exploration:

Families can also be catered for on many of the tours, and e-bikes are often available to provide a truly relaxing cycle holiday.
Tours typically start and end in Napier with the local Hawke's Bay Airport (NPE) close by and offering domestic flights within New Zealand. With a direct motorway link between Auckland and Napier (five hours) or the more scenic Winery Drive from Wellington to Napier (five + hours via the Martinborough Wine region), driving is also a great option.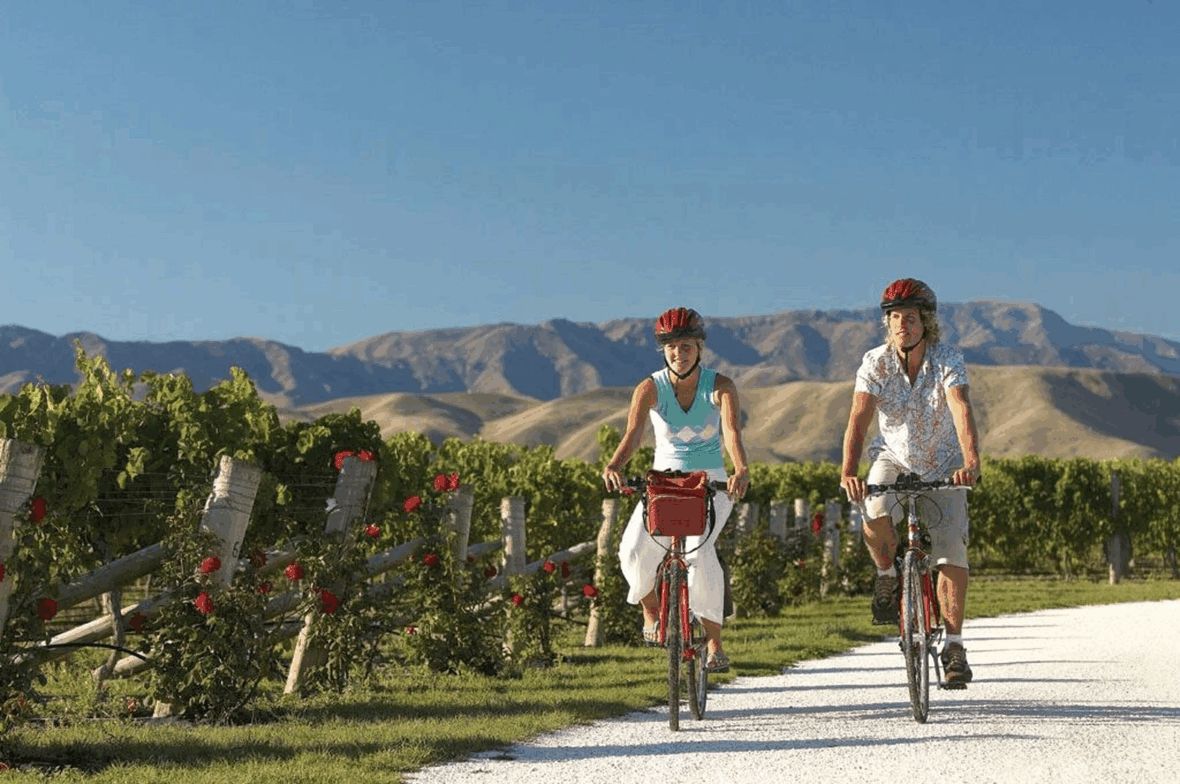 3. Central Otago
Famous for its Pinot Noirs and for being the world's southernmost wine producing region, the Central Otago area of the South Island will be firmly on your berry bucket list. Protected by high mountains with a unique semi-continental climate for growing, this part of NZ also has the lowest annual rainfall. Arguably the adventure capital of New Zealand, Queenstown is a central hub here and a mecca for outdoor enthusiasts. Another highlight of the region for keen cyclists is the fascinating Otago Rail Trail, one of New Zealand's Great Rides and a superb way to explore the region, whilst also taking in some wineries along the way, naturally.
Explore some of the best boutique wineries on this five-day luxury self-guided tour, which comes complete with e-bikes to ensure pure comfort and fun:
The tour starts with a private transfer from Queenstown and ends with an unforgettable train ride through the Taieri Gorge to Dunedin. Both Queenstown and Dunedin have international airports and are central hubs on the South Island for public transport.
Or try this longer e-bike tour of the South Island which includes a day exploring the Gibbston River Wine Trail of Central Otago by bike, and later in the tour exploring the Marlborough wine region. It's a wine-lover's dream!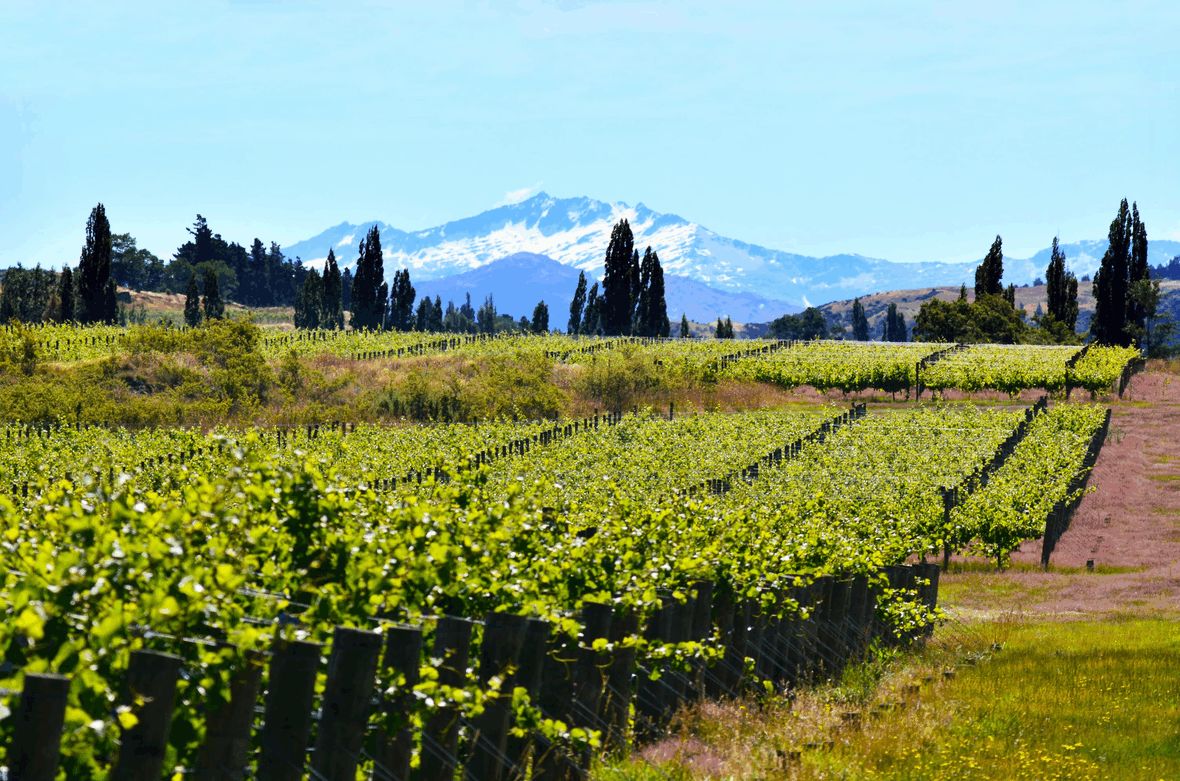 4. Nelson Region
Cozying up to the Tasman Sea and benefiting from mild winters and sheltered geography, the Nelson region is home to a vibrant and somewhat undiscovered wine scene. Perhaps overshadowed by the celebrated Marlborough region, its renowned neighbor, Nelson has quietly and confidently grown to be a rather dashing contender offering excellent Pinot Noir, Chardonnay and Sauvignon Blanc. With the recent emergence of the Great Taste Trail cycleway as an accessible and popular corridor for cyclists to explore the region, Nelson is undeniably on the wine map of New Zealand and a boutique destination not to be missed.
Join a small group bicycle tour of the Nelson region and discover the fantastic array of wineries along the Great Taste Trail that hugs the northern coast of the South Island:

If you're looking for a self-guided cycle tour of the Great Taste Trail, then try this fine tour, discovering the wine, craft beer, gourmet delights and art of the region via velo.
Roar Adventures also offers customized, on demand tours of the Nelson region in partnership with local tour operators. If you're after customized trips or scheduling, get in touch with your wishes and we can make it happen!

Nelson can be reached easily via train/bus or the local Nelson Airport (NSN) offers domestic flights and is a convenient 6km (3.7mi) from the center of town.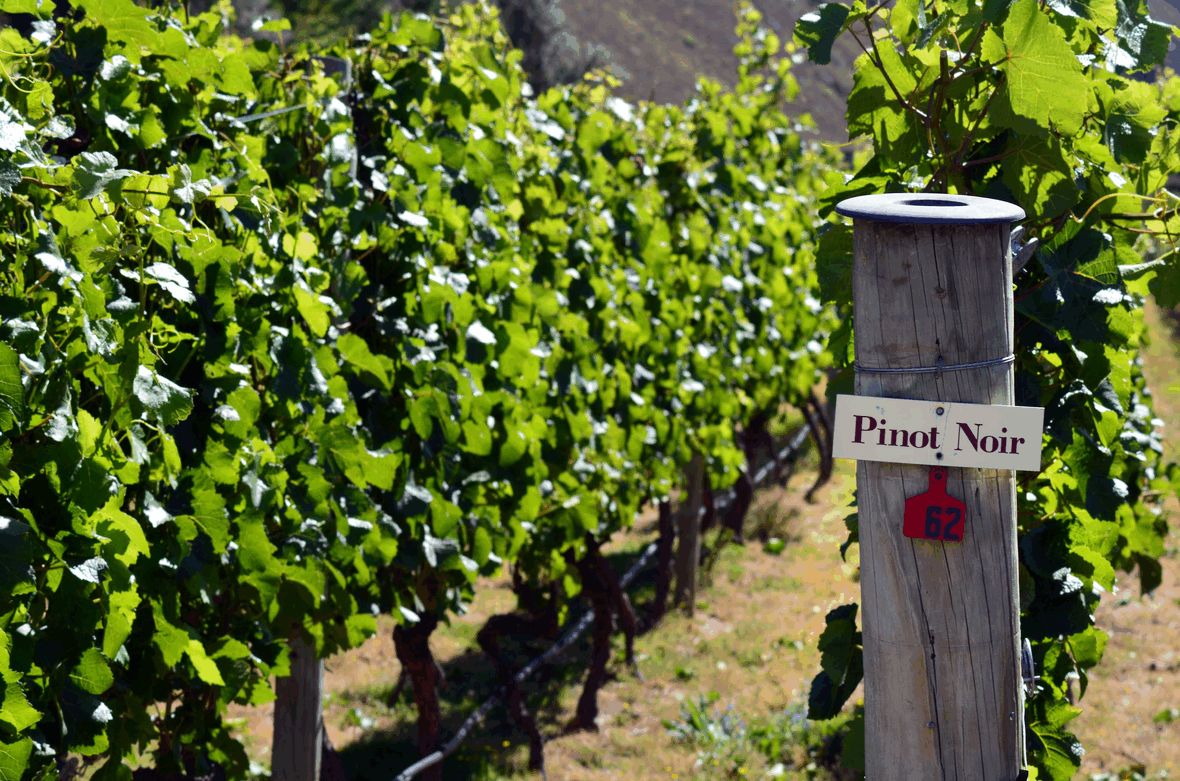 5. Waipara Valley, Canterbury
Just over half an hour north of Christchurch lies the undulating landscape of the Waipara Valley. A relatively new region to the scene but with some big and award-winning names such as Pegasus Bay, Waipara Hills and Black Estate Wines, it's a great place for a vineyard cycling tour just outside of the city. If you're feeling energetic, you could plan to continue cycling up to neighboring Marlborough and extend your wine wanderings for as long as time, and sobriety, allows.
This lovely two-day guided tour starts and ends in Christchurch and transports you the short distance to rural Canterbury to start the cycling. With time also spent at the thermal spa town of Hanmer Springs, what better way to spend two days, discovering wineries and hot springs!

Christchurch Airport (CHC) services both domestic and international flights and Christchurch is a central hub for buses and trains.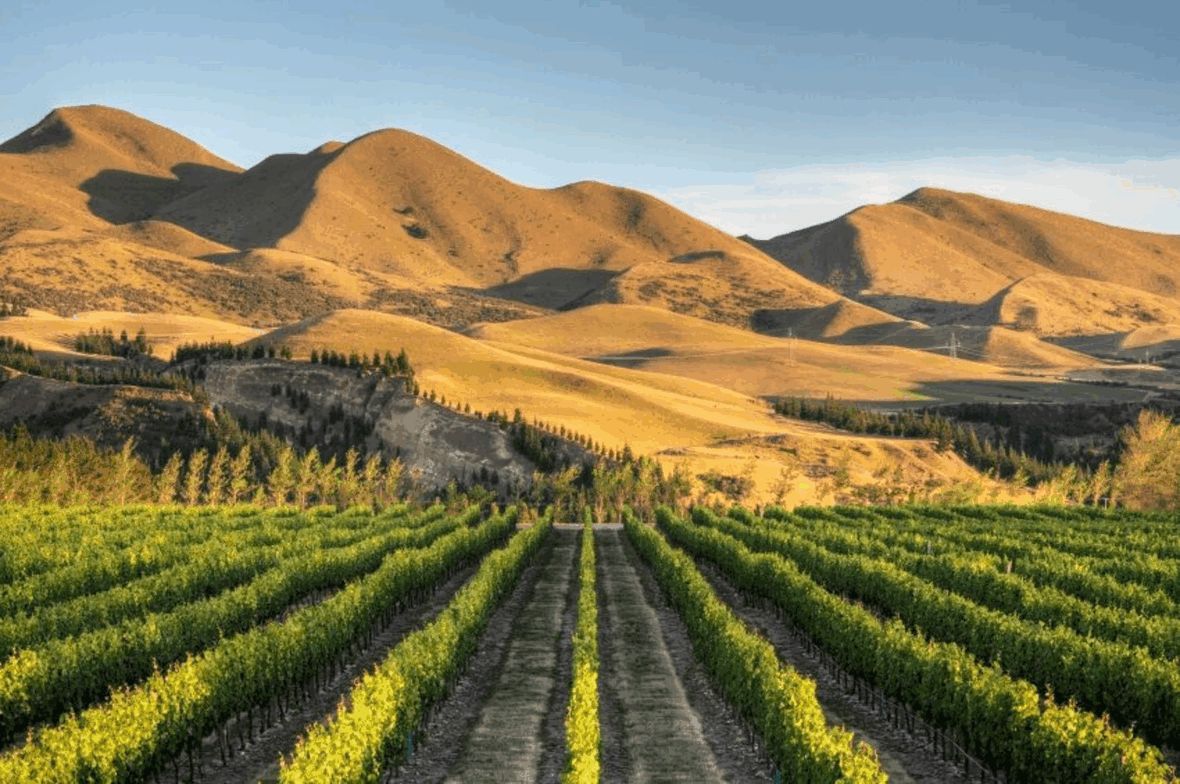 6. Gisborne Region
Last, but no means least on our list, is the most easterly point in NZ, Gisborne. A visit to this chilled out region on the North Island will not only let you glimpse sunrise before anyone else in the country but also give you the chance to sample some sublime wines produced in this supremely fertile region.
Protected by mountains and neighbored by the sea, Gisborne receives a high amount of sunshine and relatively little rainfall, culminating in a glorious array of vineyards with exceptional wines, known the world over. In fact, Gisborne is New Zealand's third largest producer of wine, however, the region can feel remote in an undiscovered secret kind of way, and with a network of quiet country roads leading to a host of wineries, it really is the perfect place for a cycling wine tour.

Get in touch with us to arrange your perfect wine biking tour today!