Legendary is often a word thrown around in a carefree manner, describing anything from a better than expected experience to a bloody good mate, or sometimes finding an unexpected sausage in an innocuous-looking baked bean tin. I mean, really, can life get much better? Bangers aside, this seven-day Heaphy and Ghost Track MTB tour boldly hits the 'legendary' label head-on with a steely-eyed stare. This is Legendary with a capital 'L'; make no mistake. Encompassing two of the most beautiful and challenging tracks within New Zealand, riding just one of these phenomenal trails would be epic enough but here you have the chance to ride both in the same week! Double the fun, double the challenge, and a double dose of sublime MTB riding like never before.
The Heaphy and Ghost tracks both appear on the International Mountain Bicycling Association's illustrious IMBA EPICs list. This accolade doesn't get awarded willy-nilly and successful entries have to fulfill strict criteria such as being technically and physically challenging to ride, encompassing beautiful settings, and being worthy of celebration for inclusion. These two revered trails offer a unique opportunity to explore world-class MTB riding with a like-minded group of thrill seekers over the course of one gripping week.
The Heaphy and Ghost trails are a rite of passage for any MTB enthusiast the world over.
Both tracks are approximately 80kms (49mi) in length and after a relaxing first day on the tour, you'll spend the next two riding the Heaphy followed by a well-deserved rest day, then two days biking the Ghost before reaching the end of the cycling holiday. Out on the tracks, you'll experience staying in the remote rural huts situated in stunningly wild and panoramic settings offering basic but very comfortable and welcoming beds in situ. Food is provided by the tour operator as well as personal locator beacons shared amongst the group with log burners to keep you toasty during the colder months.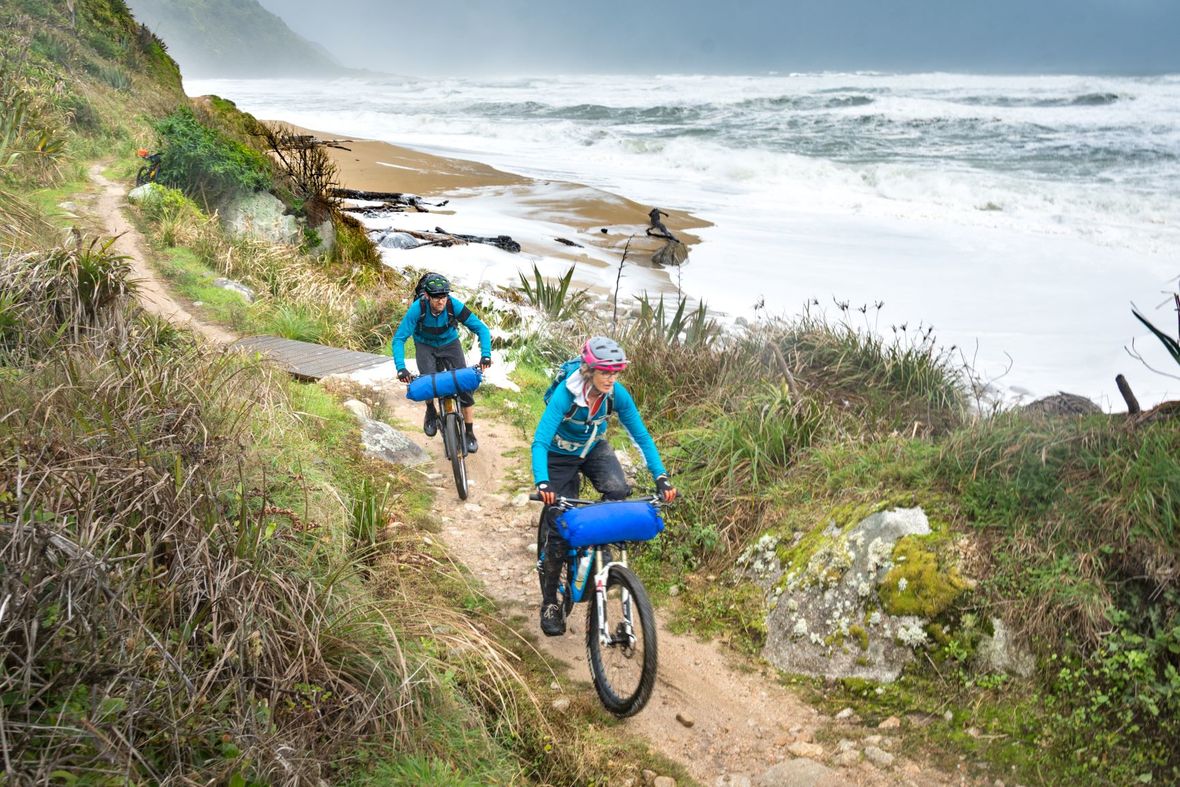 The Heaphy Track, a cherished trampers' delight and considered one of the top nine walks in New Zealand, is now open to mountain bikers and offers a tough and visually remarkable Grade 4 ride through the lush landscape of the Kahurangi National Park. Superb scenery and abundant wildlife populate the ride and much of the route borders the west coast, offering astounding ocean views and an unparalleled sense of freedom mixed in with a healthy dose of adrenaline. The track also includes a host of bridges, many of them narrow suspension bridges, for extra excitement and tricky biking challenges.

The Old Ghost Road, a long-abandoned gold miners' route, is now a mind-blowing biking and tramping trail worthy of extra underwear. A technically challenging Grade 4 cycling trail, you'll need to be a competent and adventurous rider to enjoy the full heart-stopping Ghost experience, biking along ridge lines and narrow tracks with steep drop-offs. But the rewards are endless with breathtakingly divine scenery offering steep forested valleys, alpine lagoons, plunging waterfalls and rivers as daily views on your gnarly ride.
With just a few dates offered and small group sizes assured, you'll want to secure your spot on this memorable and, frankly extraordinary, tour swiftly. Bragging rights will be huge after ticking these trails off your cycling bucket list and, as the tour operator states, 'the Heaphy and Ghost trails are a rite of passage for any MTB enthusiast the world over'. Simply legendary to the core, and not a sausage in sight.