Aside from the bounty of tours advertised on our website, we also get lots of requests each week here at Roar Adventures for customized cycling tours. Often this is due to dates not quite working on existing tours, or tweaking itineraries or durations to fit into a client's time-frame and wishlist. Roar Adventures has a host of global contacts and a stack of tours yet to appear on our site (watch this space…) so it's always worth contacting us if you can't quite find what you're after on the website. Or if you just want to say hi, we'd be happy to hear from you – it's a shame virtual donuts are not yet a thing, as we'd gratefully accept those also! 🍩
Every now and then, we'll post selected custom cycle tour requests and so feel free to give us a shout if any grab your attention. Or, if you've got an idea up your sleeve for a perfect cycle tour which has not yet appeared on our site it may make the perfect case-study for a future feature. We're always happy to help you find bicycle tours worldwide to tick off your bucket list!
Trending: Vietnam Family Cycle Tour

Recently, we were approached by an eager family looking to embark on their first cycle tour together in Vietnam, next year, with the following specifications:
Young family with 2 children aged 11 and 13
Traveling in April 2020, looking for tour of 5-7 days
Looking for adventure and cultural experiences in a safe environment
Would like to combine cycling with trekking and other activities
Interested in including Ha Long Bay, Hue, Hanoi, Hoi An and Saigon (Ho Chi Minh) as stops on the tour
Looking for a guided tour
Would prefer boutique accommodation, open to home-stay
Children not too experienced with cycling so low mileage and other activities important
Recommended Options

The following 2 options were discussed with the clients with the potential to add on shorter tours before or after to include visits to Ha Long Bay and other desirable sights.

A further two customized tours were offered as below:
---
Custom Tour Option 1:
13 Day Hanoi-Hue (including Ha Long Bay) Family activity tour from Hanoi to Saigon (Ho Chi Minh)
Although our family was ideally looking for a 5-7 day tour, we recommended this tour as it was not exclusively a cycle tour, but also covered activities and sights they wanted to see after the cycle tour, all at a great price. This tour includes:
Spending the night under stars at Ha Long Bay, exploring caves, cruising and kayaking
Boat cruise on Perfume River in Hue, Forbidden Purple City
Walking tour in Hoi An and bicycle tour in the countryside
Optional river boat trip and cooking classes available
Beach day, street food tours, with more rural biking available
Bamboo basket ride down the waterways of the jungle that the children will love!
Guided walk of Ben Thanh Market in Saigon (Ho Chi Minh), with cycle rides available there
Cruise the Mekong Delta and explore local cottage industries, stay in a home-stay on the water.
Approximate cost: $1795-1900 AUD per adult (depending on dates chosen), $1616-$1710 AUD per child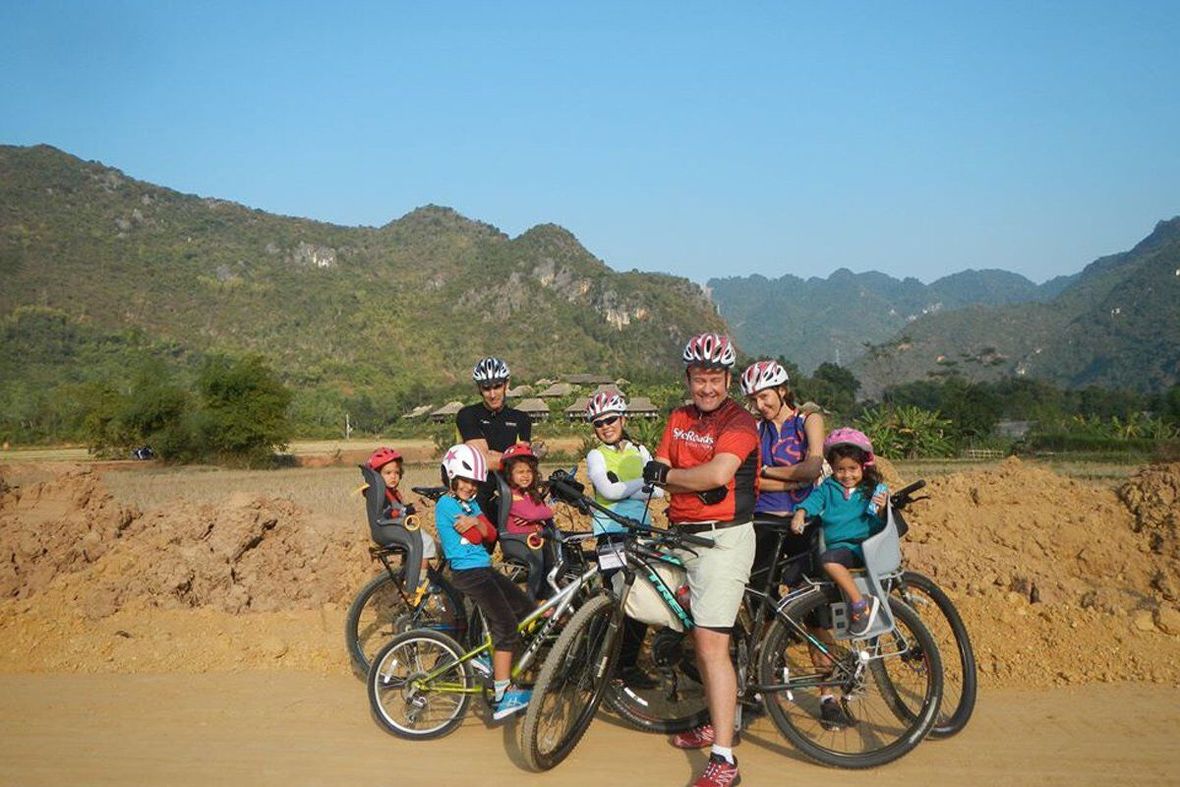 ---
Custom Tour Option 2:
7 Day Hanoi-Hanoi Family Bike Tour
This last option was customized exactly to meet all of the family's requirements and ticked off all the destinations they wanted to visit during their holiday. This tour is available on any start date, is fully guided and includes lots of other activities as well as cycling.
The tour itinerary includes:
Ha Long Bay — kayaking cruising and staying on junk boat - Bai Tho Junks
Hanoi — sunrise on Ha Long, visit caves, may see monkeys
Tam Coc — biking countryside, rowing boat trip, Yen Nhi Hotel or Nam Hoa Hotel
Pu Luong — trekking, bamboo rafting adventure, home-stay
Mai Chau — spectacular scenery, home-stay, biking in valley
Hanoi city tour.
The cost (based on their required dates and for a group of 4 people) was $950 USD per adult or child (12+), $700 USD per child (6-11).
---
Roar adventures can customize the perfect cycle tour for you and your family. Get in touch today with your wish list!