Touring New Zealand's South Island is pure joy for all who tread, from zen nature lovers to adrenalin junkies alike. Cycling NZ is arguably the ideal way to explore this pristine landscape. Seriously, what better way is there to explore a country renowned for its natural beauty than by the slow travel afforded by biking?
Cycling New Zealand comes in all shapes and sizes, with heart-pounding mountain biking finding prime terrain in the South Island's epic peaks and wilderness, right through to dynamic road cycling, peaceful wine pedalling and leisurely trail riding. It's all here for you to ride - rail trails, stunning off-road routes, vineyard explorations and endless road wanderings. Find your perfect slice of cycling pie in New Zealand with some terrific bicycle tour suggestions below to get you started.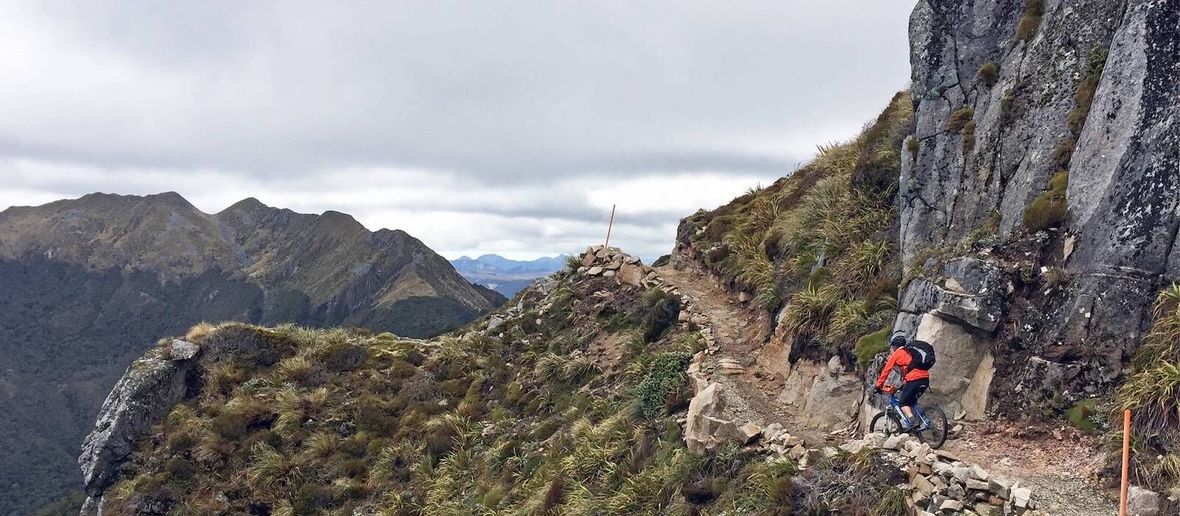 1. Alps 2 Ocean Trail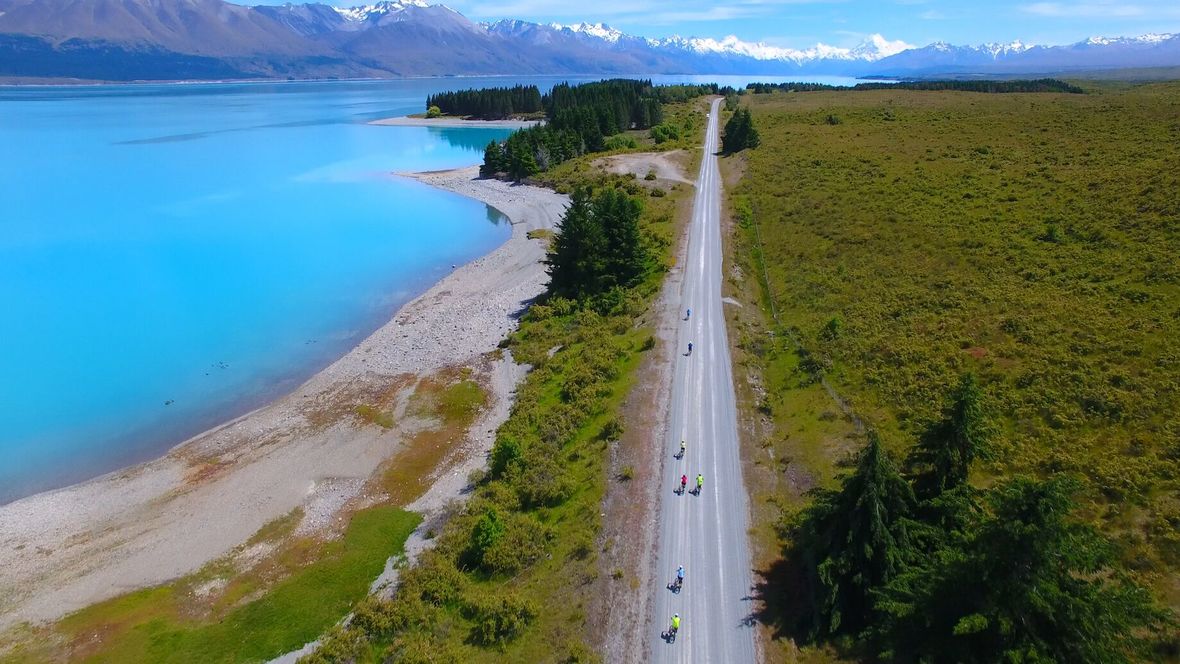 Starting with this iconic NZ cycling trail, the Alps 2 Ocean (A2O) multi-use route is a must-do for trail riding fans. Taking you from Aoraki (Mount Cook) in the heart of the South Island out to the expansive east coast, you'll be smitten with this beautiful journey and the fantastic cycling opportunities it affords. Join a guided local tour of the A2O and choose your level - perhaps an exclusive e-bike journey, the classic, or for those short on time, the 3 day "Best Of" option has it all.
2. Old Ghost Road MTB and more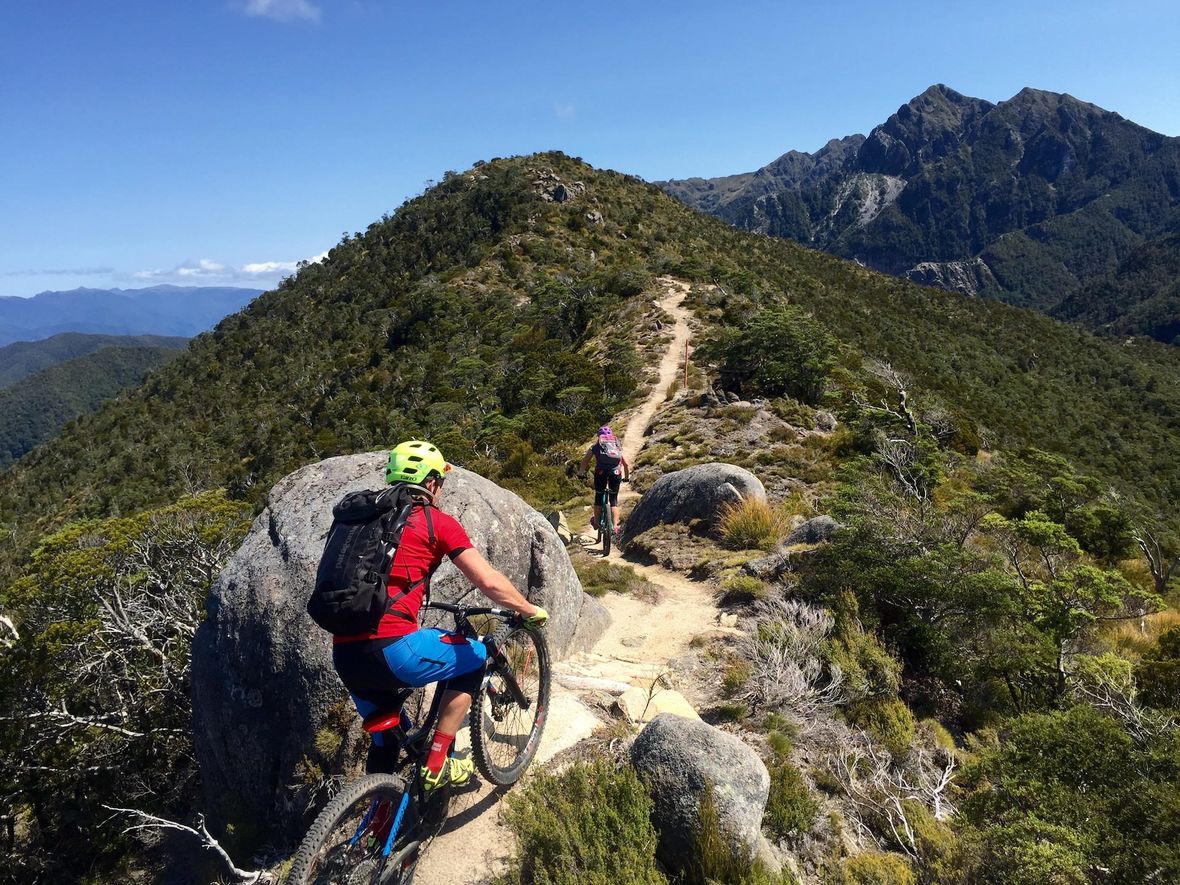 Ride from Nelson to Queenstown over some incredible terrain in the very capable hands of local experts on the tour below, which covers the Old Ghost Road, Southern Alps and other South Island MTB gems. Following legendary routes on the Old Ghost Road itself, the tour also explores the outstanding Craigieburn trails, Kirwans Track and Lake Tekapo. You'll be overloaded with exceptional biking opportunities and overjoyed with the experience. With Wanaka and Queenstown to greet you at the end of the tour, you can end on a high with the heroic riding waiting down south, from Rude Rock to Skippers Canyon. Back-country hut lodging and heli-biking are some of the other truly epic highlights of this 8 day tour. Check it out!


Another remarkable guided MTB tour offering, below, focuses predominantly on exploring the Old Ghost Road, and also takes you on some phenomenal mountain bike rides around the top of the South Island to boot, starting and ending in Christchurch.

3. Great Taste Trail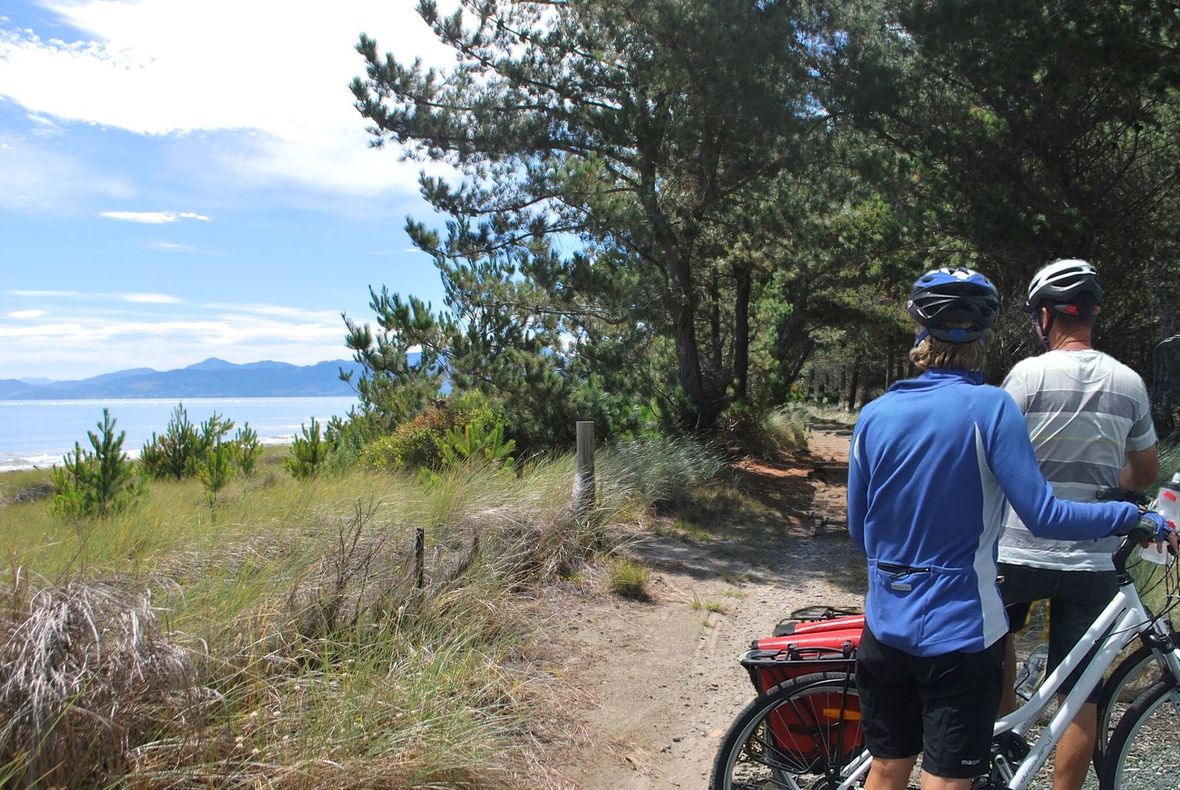 Along the north shores of the South Island lies one of New Zealand's Great Rides. The Great Taste Trail lives up to its name and is a leisurely and utterly scenic cycleway taking you through coastal beauty and peaceful rural inland landscapes. Along the way you'll visit artisan makers, wineries and craft breweries, food outlets and charming cafes in the Nelson/Tasman region. This is a fantastic trail to explore for all ages and abilities and we have both guided and self-guided tours available to discover the ride. Most tour options also include visiting the natural wonderland of Abel Tasman National Park, a bucket-list worthy destination, for explorations via hike, kayak or cruise.
4. Christchurch to Queenstown Road Cycling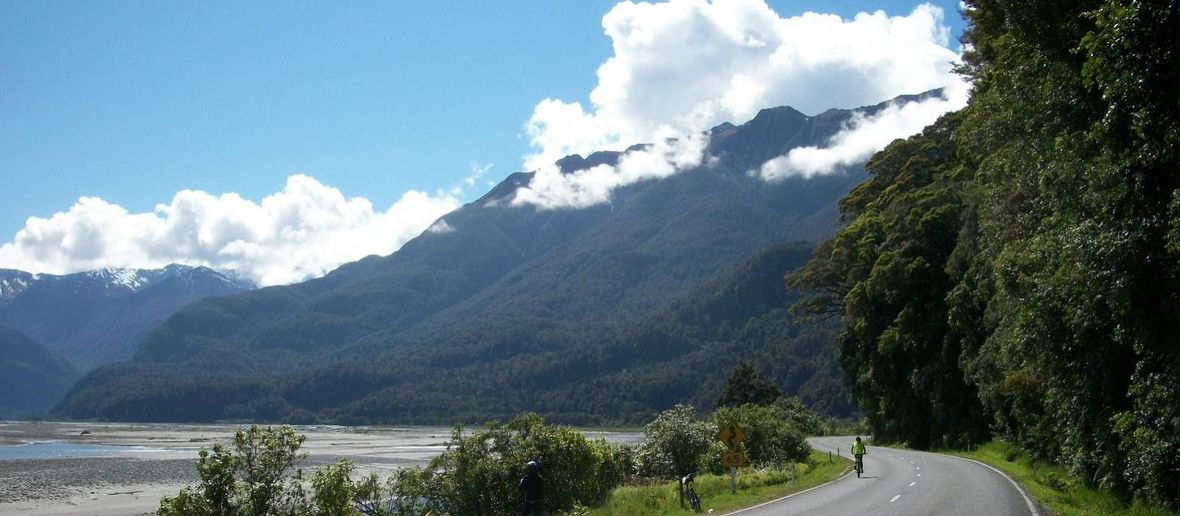 Ride through Lord of the Rings country as you sail down the west coast through this sublime World Heritage Area, road cycling from Christchurch to Queenstown. You'll bike dramatic alpine pass crossings including the spectacular Haast Pass, stop and ride through Glacier country, leading to the magnificent Crown Range as you enter the gorgeous Southern Lakes district encompassing Wanaka and Queenstown. The tours below provide a range of experiences, but all are guided road riding adventures along this iconic route.
5. West Coast Wilderness Trail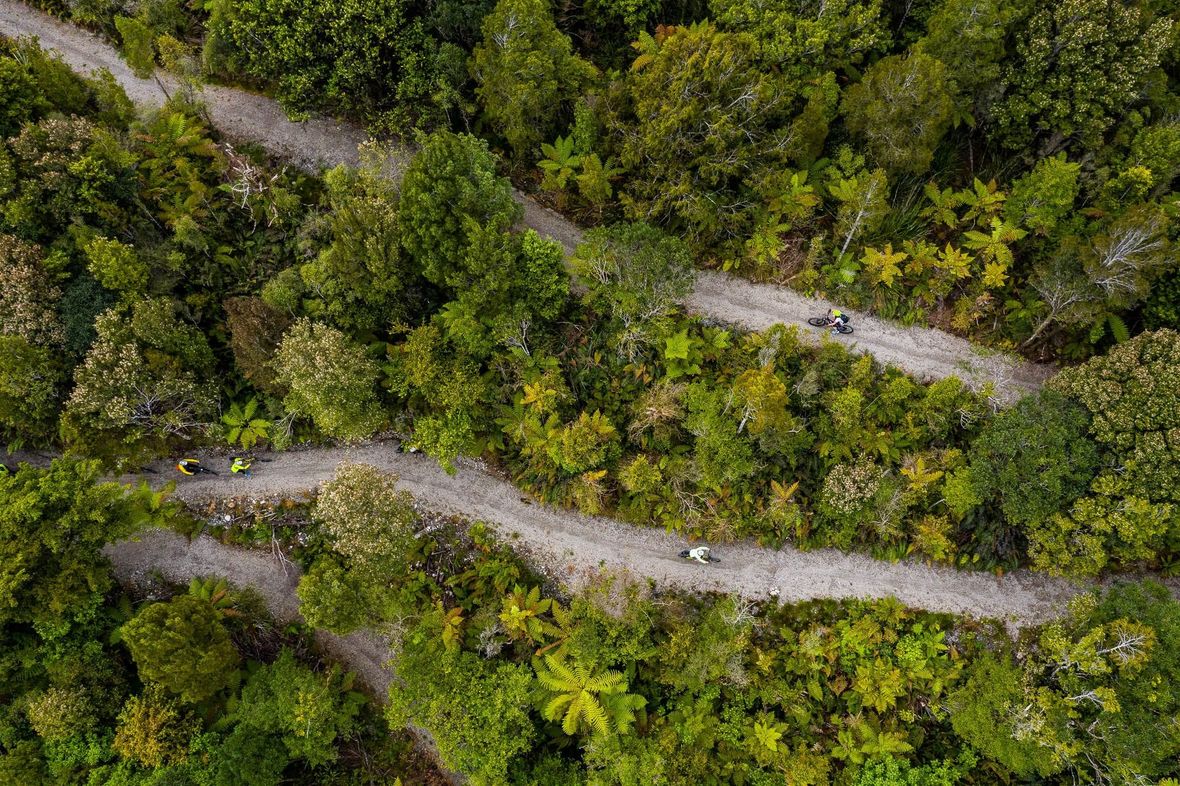 Throw yourself into the deep green scenery of the west coast of NZ's South Island on a bush trail tour spanning 87 miles. The route sits between the majestic Southern Alps and the Tasman Sea and runs from Ross to Greymouth through some enchanting scenery. As well as tours focusing just on the West Coast Wilderness (WCW) trail, Roar Adventures also has a South Island trail riding tour by e-bike that takes in several of the iconic tracks (Alps 2 Ocean, West Coast Wilderness and a variety of Queenstown trails) on one longer guided tour, that may just help you fulfill several dream rides in one happy hit.
6. Otago Rail Trail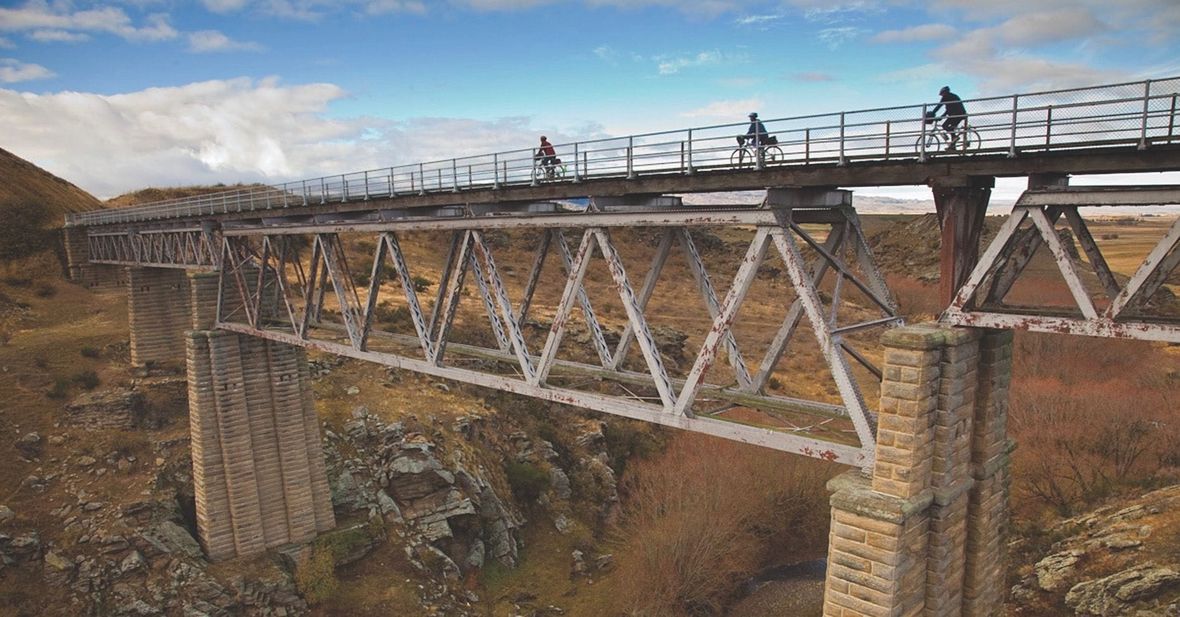 Journey to central Otago and discover this humble and charming rail trail tour through the heart of the region following the old train line. Roar Adventures hosts the best cycle tours running on the rail trail, from operators offering a high-end luxury experience, to more moderately priced trips, all offering local expertise on the trail and ranging from group guided tours to self-guided meanders. Tours offer a range of durations, from longer leisurely rides to express options, and e-bikes are now also permitted on the trail, giving any 'non-cyclists' more of a reason to give it a try.
7. South Island Winery Cycle Tours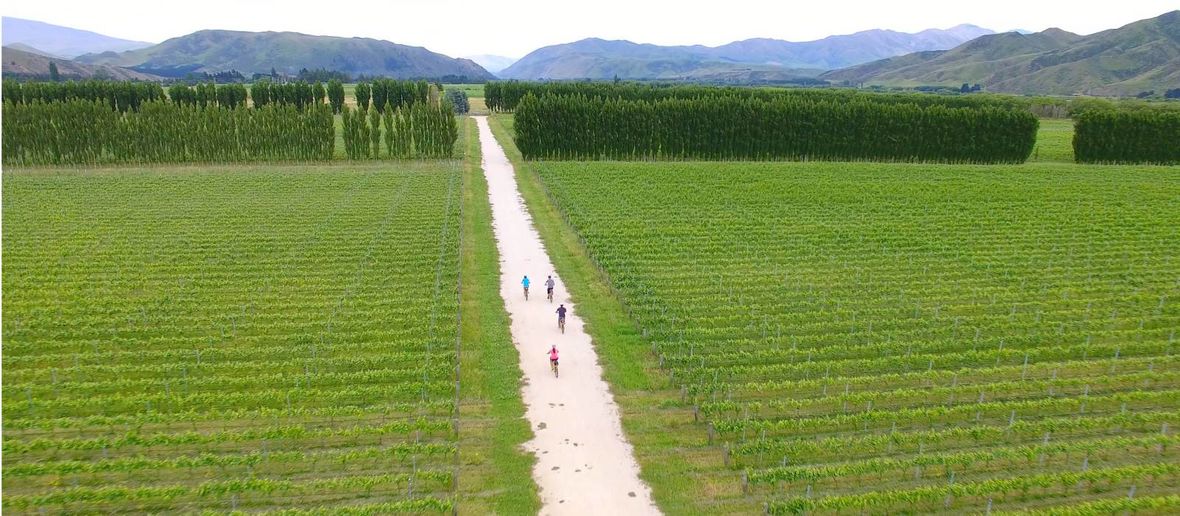 Pedalling across glorious landscapes, stopping off every here and there for a sip of wine and perhaps some lunch or a vineyard tour, it's the stuff dreams are made of, and NZ's South Island is up there with the best, bringing world-class wines to the table. Try a tour of the revered Marlborough district at the top of the South Island, or work you way down, stopping for a short tour of Canterbury's wares or perhaps a longer tour further south, riding the Otago rail trail and exploring the region's vineyards too.
If wine bicycling is your thing (and how could it not be), sample our sweet article here with the best wine-focused biking tours of the whole country:

Additionally, many tours might come with the option to visit local vineyards on one day of the tour, perhaps not a wine cycle tour as such, but still giving you the chance to explore New Zealand's celebrated wines in the region of your choosing. For example, the Alps 2 Ocean tours usually include an option to visit, or even ride through, local wineries towards the end of the trip.

8. Top and Bottom of the South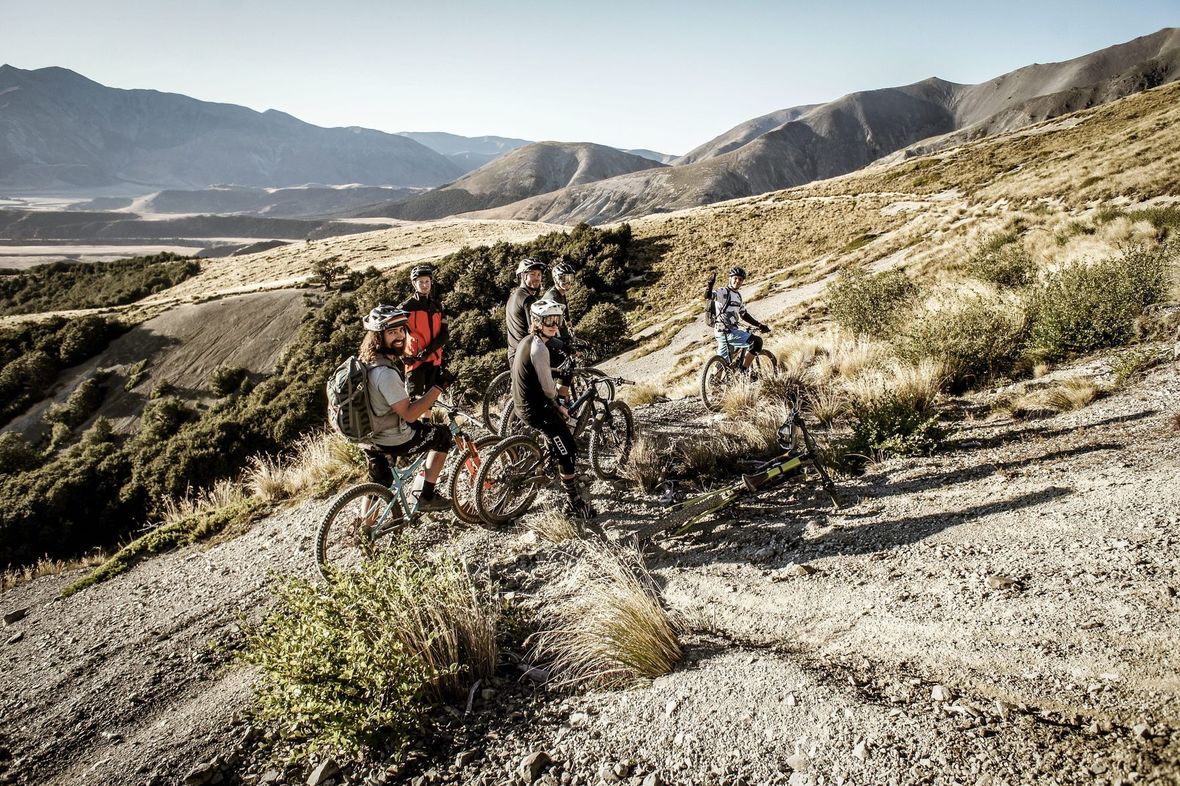 If you're heading across to the South Island via the simply stunning ferry crossing from the North, you're in for a treat. Aside from the magical scenery, you could spend some time loitering around this part of the country and participate in an incredible cycle tour. Perhaps somewhat lesser known but still achingly beautiful, the top of the South Island offers alpine views and villages, coastal splendor and characterful towns. It also has some rather decent MTB on offer for those looking for some mountain biking action, as well as some exceptional road biking. Take your pick!

At the other end of the island, why not try this road biking tour from Queenstown to Dunedin, taking you past the serene beauty of Milford Sound, into the rural expanses of the Catlins, and out to the isolated and rugged southern coast. Simply breathtaking.

9. Queenstown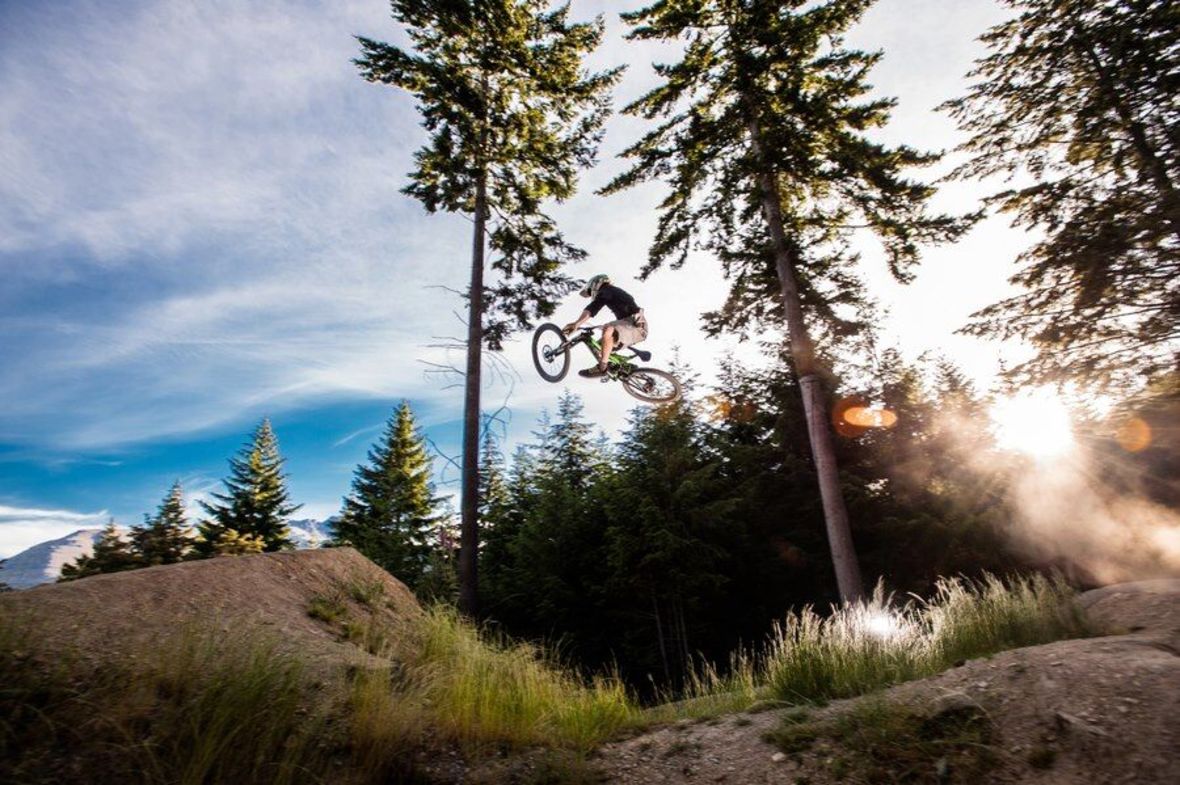 Queenstown, arguably the epicenter of all things adventure and extreme on the South Island of NZ, is also home to some exquisite landscapes, something that led to it being the natural playground that it is, but not always at the forefront of your mind when the name is mentioned. If your desire is for adrenalin-fueled action then you've come to the right place, and the Queenstown MTB Gravity Camp tour below will deliver, taking you to all the essential hair-raising mountain biking spots with the daring locals whilst also improving your skills along the way. For more sedate wanderings, try the e-bike guided tour below, taking you through the Queenstown and Arrow River cycle trails before moving a little further out to the Otago Rail Trail. Additionally, many of our South Island cycle tours start or finish in Queenstown, allowing time for further independent exploration at either end of your trip.